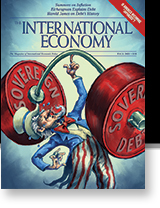 Released today, in The International Economy  symposium:
"At some point, the federal stimulus checks will stop coming. Consumer sentiment could continue to be affected by fear of further Covid related complications. The world economy hardly looks trouble-free. Is it possible that U.S. policymakers fired all their fiscal stimulus cannons too soon? Will they be short of ammunition in the event the economy in 2022 significantly underperforms? Some economists, using a different metaphor, describe the danger as "running head-on into a fiscal cliff." To what degree should U.S. policymakers be concerned? The economy was already rebounding. Should policymakers have held back on sending out the checks until 2022?
Comments by Joe Gagnon (PIIE), John Taylor (Stanford), Mohamed el-Erian (Allianz), Steve Kamin (AEI), and Bill Dickens (Northeastern), and myself. Here's my comment:
First, while federal debt held by the public has risen quickly, and is projected by the Congressional Budget Office to further rise from 100 percent in 2020 to 106 percent of GDP by 2031, the maximum debt-to-GDP ratio that can be sustained (and hence the gap between the two, sometimes considered a measure of "fiscal space") is unknown, particularly for a country that issues debt in the global reserve currency. Add to that the fact that the real
interest rate that we are paying on that debt is likely to be lower than the growth rate of GDP for a sustained period—the real ten-year interest rate has been stuck at about minus-1 percent for a year, and was close to 0 percent on the eve of the pandemic—then we have much more room to run a primary deficit (and stabilize the debt-to-GDP ratio) than if one thought real rates were going to rise back to 1.5 percent.

Second, another metric for assessing the amount of fiscal space—the debt-to-tax base—seems low if one takes the observed tax revenue as a measure. However, if tax revenues could be raised so that we collected the same revenue-to-GDP ratio as in 1979, then the deterioration in the fiscal space would be somewhat less worrisome; the debt-to-tax revenue would then be only a bit greater than at the end of the great recession. Of course, raising tax
rates to raise tax revenues is difficult. In other words, fiscal space is partly a function of political will.

Third, what we spend our fiscal ammunition on matters. Spending on infrastructure has a bigger multiplier effect, in both the short and particularly the long term, than other types of spending. Given the current configuration of real government funding costs, it's unclear whether greater expenditures on infrastructure investment would actually reduce fiscal space.

Finally, returning to the first point, the federal government funds in the U.S. dollar, which is  the global currency. It can expect that a large portion of that debt will be readily purchased by foreigners, both central banks and private entities. That's likely to be true despite rising federal debt, if only because governments around the world are also issuing much more debt in the wake of the Covid crisis.

The real danger is that we will retrench too quickly in response to perceived, but illusory, constraints, thereby derailing growth. We've been there before, and we shouldn't repeat that experience. For now, the United States has a ready reserve of ammunition, and we should be prepared to use it.
(Written at the end of August).
Addendum: 
See also Barry Eichengreen's insightful "Balanced, Nuanced Story on Debt".