With yesterday's employment situation release (discussed in this post), we have data employment by sectors, as well as corresponding average hourly earnings. We don't have the CPI for that month, but using nowcasts, we can guess what is likely to be happening to real wages.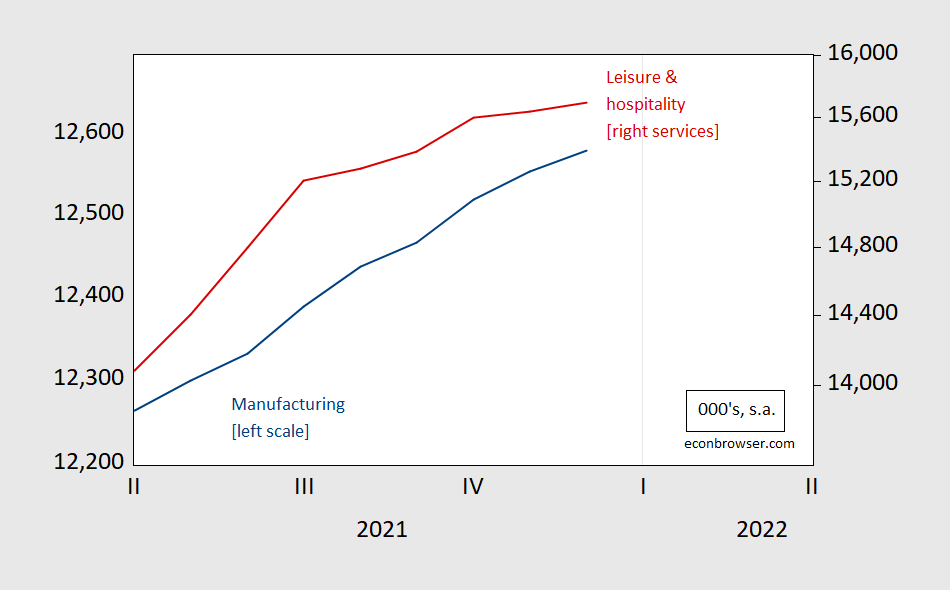 Figure 1: Manufacturing employment (blue, left log scale), and leisure and hospitality services (red, right log scale), both in 000's, s.a. Source: BLS.
Leisure and hospitality services employment was flattening out even before omicron's impact could have been felt. That being said, this sector's employment preliminary estimates have been subject to (relatively) big revisions: 0.38 percentage points, compared to 0.06 points for manufacturing, for instance and 0.09 for all of nonfarm payroll employment.
Average hourly earnings rose rapidly in December. The evolution of inflation adjusted hourly earnings has varied by sector. This is shown in Figure 2.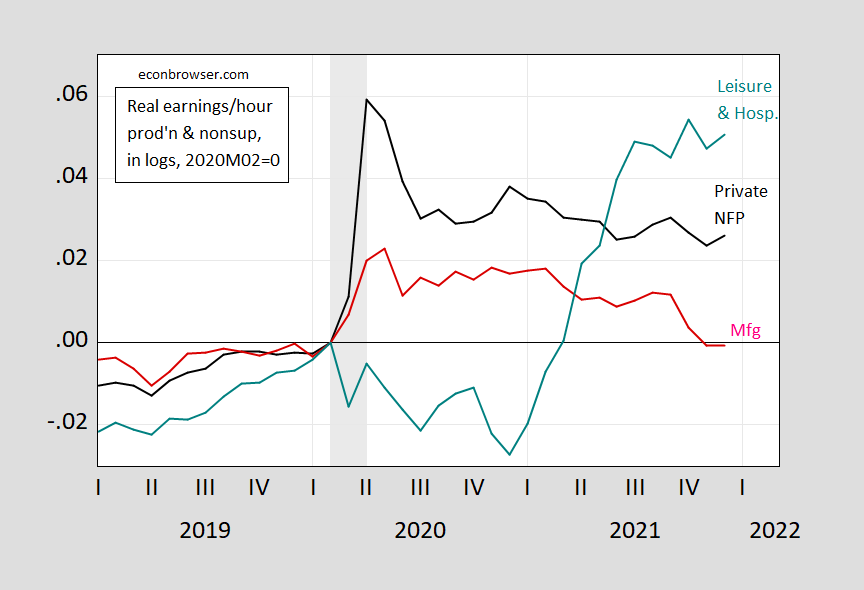 Figure 2: Average hourly earnings in all private nonfarm payroll employment (blue), in manufacturing (red) and leisure and hospitality services (teal), for production and nonsupervisory workers, all in 2020$, s.a. December CPI used is Cleveland Fed nowcasted value. NBER defined recession dates peak-to-trough shaded gray Source: BLS, Cleveland Fed (accessed 1/8), and author's calculations.
Real wages rose in total nonfarm payroll and hospitality and leisure, while flat in manufacturing.
Torsten Slok observes:
[W]age growth at the industry level [leads to] the conclusion is that wage inflation is particularly high in contact-intensive occupations, suggesting that the virus and labor shortages in face-to-face businesses is the key reason why wage growth is so strong.

…

The bottom line is that the virus continues to hold back labor supply in contact-intensive industries, and that is a key reason why there is so much upward pressure on wages. There is little the Fed can do about this other than to quickly cool down aggregate demand to avoid a situation where inflation spirals out of control. The question for investors is if the Fed is moving fast enough.
The series shown in Figure 2 are not using composition adjusted wages, however. Goldman Sachs indicates their (nominal) "composition-corrected wage tracker stands at +4.1% in Q4 (vs. +4.0% in Q3)". This compares to the +6.9% (and +6.7% in Q3) implied by the BLS overall nonfarm payroll employment series (AHETPI via FRED). Inflation-adjusted composition-adjusted wages would then be falling given CPI's evolution. That's not good news for returns to labor; on the other hand it takes away from the wage-price spiral narrative.