Even under optimistic assumptions, growth is going to miss the government's target.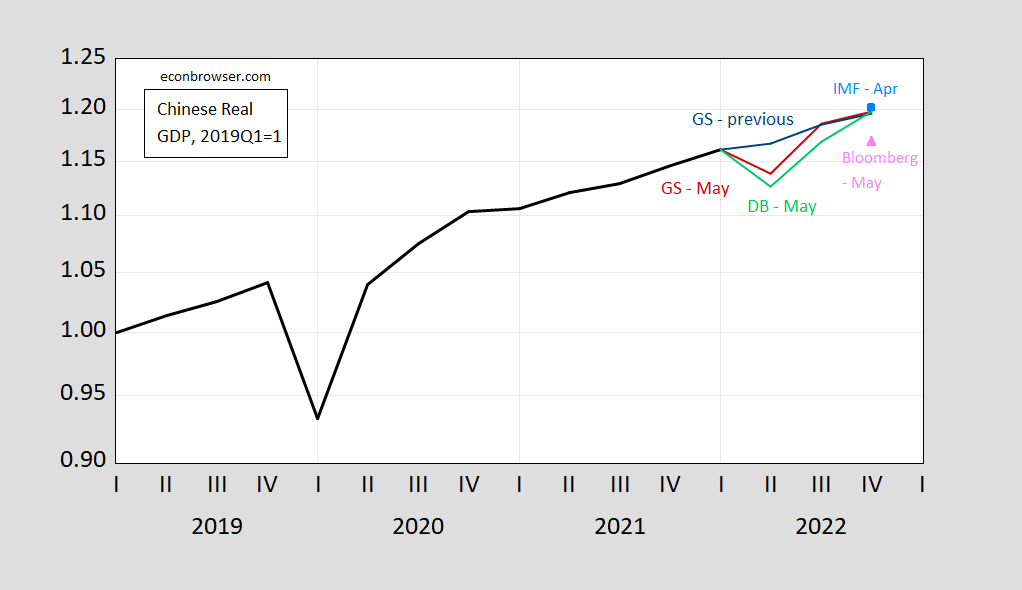 Figure 1 (updated 5/20): Chinese real GDP, 2019Q1=1 (black), Goldman Sachs previous forecast (blue), Goldman Sachs May 18 forecast (red), IMF April World Economic Outlook forecast (sky blue square), Deutsche Bank May 17 forecast (light green), Bloomberg Economics May 20 (pink triangle). Source: NBS, IMF, Goldman Sachs, Deutsche Bank, Bloomberg Economics, and author's calculations.
Goldman Sachs (Shan et al., "How to get close to 5.5% GDP growth with a zero-Covid policy?" May 18, 2022) projects a hit to Q2 growth, with recovery in subsequent quarters to q4/q4 growth is largely the same, and slightly less than the IMF's April World Economic Outlook forecast of 4.8%.
Goldman Sachs's
"…lower growth projection embeds the assumption that Covid is mostly under control going forward, the property market improves from here, and the government provides substantial policy offset through infrastructure spending in coming months. For example, we expect our augmented fiscal deficit to widen 3pp this year."
The forecasted Q2 drop is just a manifestation of the negative news in my China sitrep post. [Update 5/19: Deutsche Bank on 5/17 dropped its 2022 Q4/Q4 growth from 4.4% to 3.3% as well, while Bloomberg Economics (Chang Shu & Eric Zhu) forecasts 2%]
Note that I'm taking the official statistics at face value. While I have my doubts, it doesn't seem that — at least through Q1 — the numbers have had "statistical smoothing" (GS's euphemism) heavily applied. See Fernald, Hsu and Spiegel's China Cyclical Activity Tracker: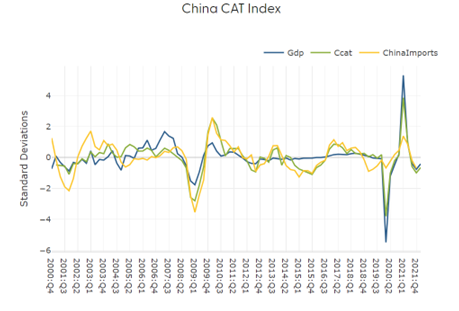 Source: Fernald, Hsu, Spiegel, accessed 5/18/2022.
The CCAT measure is pretty close to reported GDP, on a y/y basis (for discussion of the quarterly CCAT, see this post).