Industrial output, manufacturing down. Retail sales down.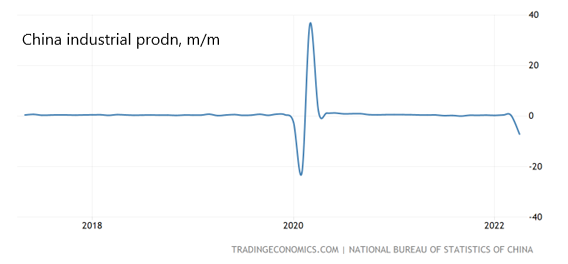 IP growth y/y was -2.9% vs Bloomberg consensus -0.4%.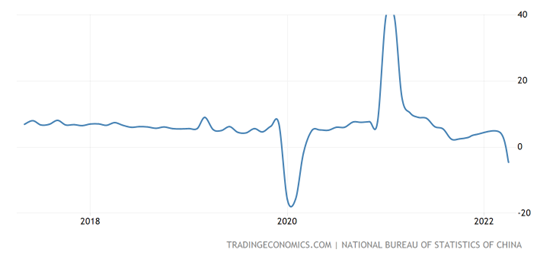 Retail sales y/y were down 11.1%, vs. down 6.1% consensus.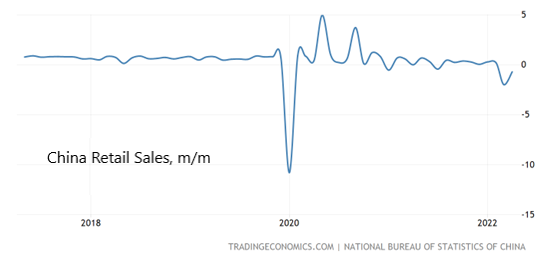 From Bloomberg today:
Monday's data suggests gross domestic product declined 0.68% in April from a year ago, the first contraction since February 2020, according to estimates from Bloomberg Economics. Growth could weaken to below 2% in the second quarter, according to UBS Group AG, while S&P Global Ratings predicted it could be as low as 0.5%. Citigroup Inc. economists downgraded their full-year growth forecast for 2022 to 4.2% from 5.1%.
The wisdom of the zero-Covid strategy is rightly under question, given the omicron variant's transmissibility. What worked before doesn't necessarily work now. I'm not sure it's the dominance of ideology (following Mao's anti-swallow campaign) over science and pragmatism [1], although I'm (definitely) not privy to the inside deliberations of Zhongnanhai. The reasonable approach would be to rely on mass vaccination, masking, use of anti-virals, and social distancing — but that approach relies on a vaccine that is effective. There is some evidence that the Chinese (non-mRNA) vaccines are less effective than mRNA vaccines, although they're still better than no vaccination (or hydroxychloroquine or ivermectin for that matter, which to the CCP leadership's credit, they have not recommended).
In any case, this misguided approach has dramatic repercussions for the US as it threatens to extend the series of cost-push shocks striking the US economy.