Reader Steven Kopits writes:
The method of presentation depends on the data. If you work with the VMT data, you know there's lots of chop, and the seasonally adjusted figures, well, may not accurately represent seasonal variation. That's why Menzie's graph looks like such spaghetti.

So how to present? You could do 3 mma over prior year 3 mma. Still too choppy. You could present annual totals or averages by calendar year, but you'll miss turning points. You can do monthly changes, a la Menzie, and get garbage.

But one option is a rolling 12 month average. That eliminates the whole seasonality question and provides a nice, smooth graph. The downside is that it may be late to show an inflection point and, in the current case, may be distorted the data by the rise in VMT in 2021.

So you have to make decisions, and each of those involves some sort of compromise.

I think you'll agree, Menzie's graph is hardly legible, much less possible to understand. I have no idea why he felt a need to do it, because he already had a visual the last time we discussed the topic.
The only graph in the post being commented on is this one: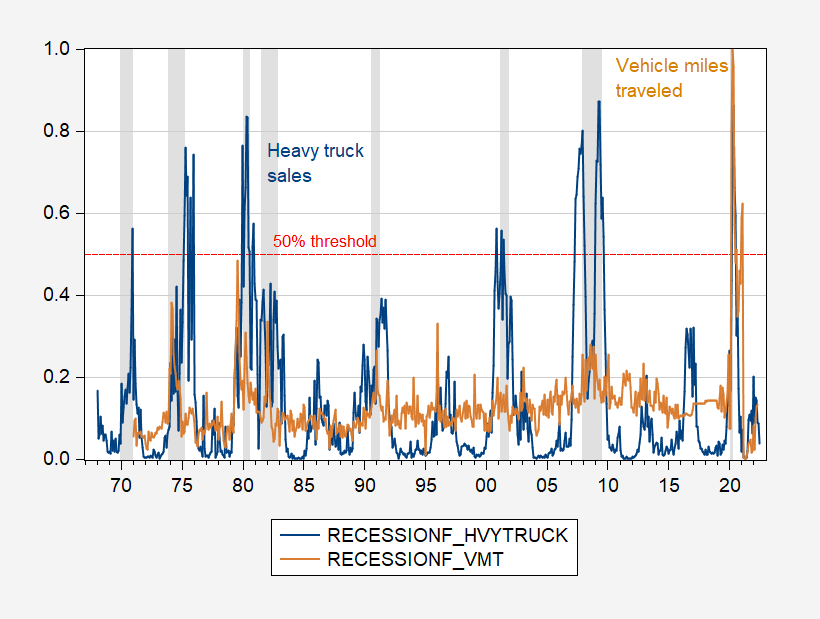 Figure 1: Recession probabilities using contemporaneous 12 month changes in heavy truck sales (blue), and in vehicle miles traveled (tan). 50% threshold dashed red line. NBER defined peak-to-trough recession dates shaded gray. Source: Author's calculations.
Strangely, Mr. Kopits does not seem to realize — despite the note to Figure 1 — that this is a graph of estimated recession probabilities, and not the underlying vehicle miles traveled (VMT) series (and heavy truck sales).
Here is the 12 month (log) change in vehicle miles traveled, and change in the 12 month rolling averages Mr. Kopits says he prefers (for the 2000-2022 period).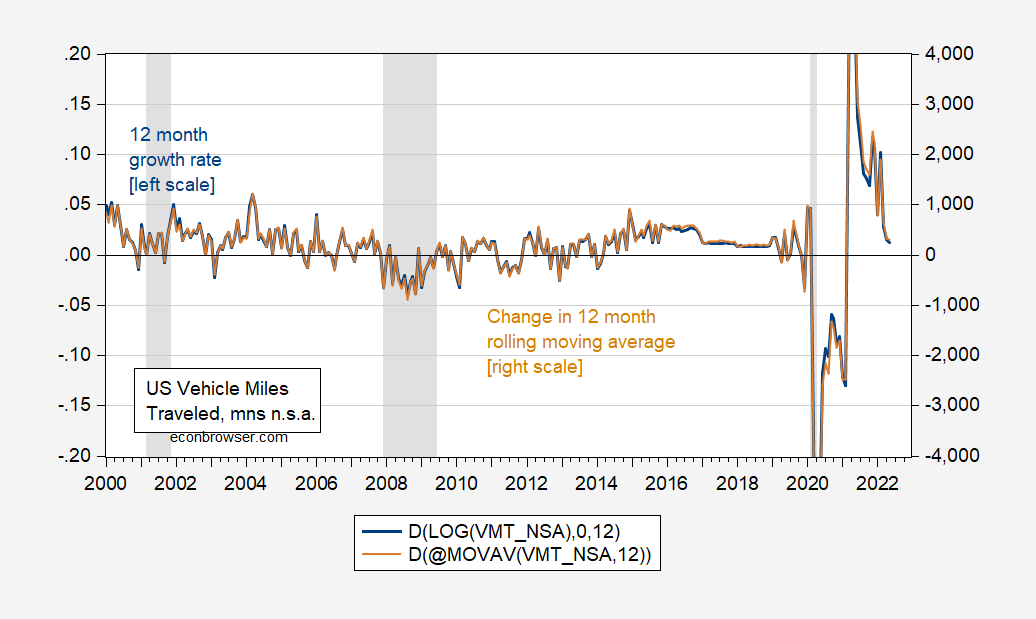 Figure 2: 12 month change in log vehicle miles traveled (blue, left scale), and change in 12 month moving average of vehicle miles traveled, in millions (tan, right scale), both n.s.a. NBER defined peak-to-trough recession dates shaded gray. Source: FHA via FRED. 
The blue line is the data I used in the probit regression, the tan line is the one month change in Mr. Kopits' preferred measure. The adjusted R2 of regressing one on the other is 0.99. In other words, had I used Mr. Kopits' preferred measure, I would get the same implied recession probabilities.
I have tried to be comprehensive in the notes to the figures I provide (particularly ever since one reader accused me of manipulating the data), but sometimes I just wonder if it's worth it, given the inability of certain individuals to read/comprehend.