Monthly GDP for November is out. Q4 tracking is for q/q growth 2.1%-3.9% (SAAR).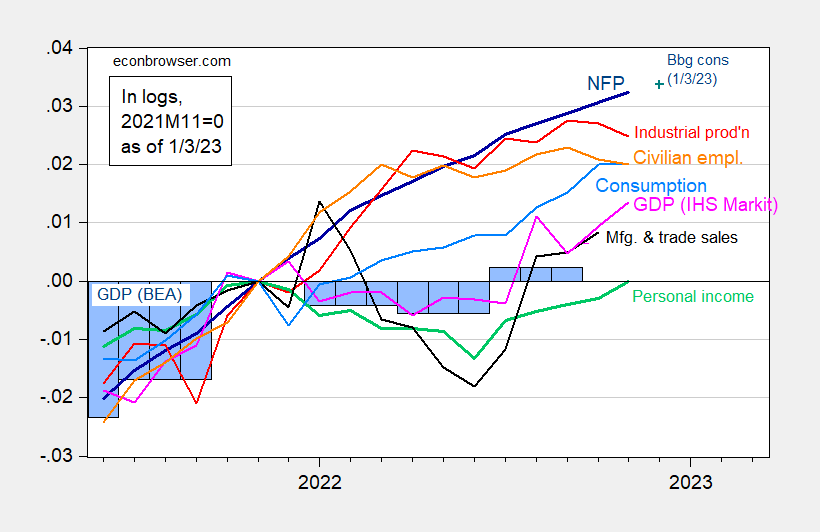 Figure 1: Nonfarm payroll employment, NFP (dark blue), Bloomberg consensus (blue +), civilian employment (orange), industrial production (red), personal income excluding transfers in Ch.2012$ (green), manufacturing and trade sales in Ch.2012$ (black), consumption in Ch.2012$ (light blue), and monthly GDP in Ch.2012$ (pink), GDP (blue bars), all log normalized to 2021M11=0. Q3 Source: BLS, Federal Reserve, BEA, via FRED, IHS Markit (nee Macroeconomic Advisers) (1/3/2023 release), and author's calculations.
IHS-Markit monthly GDP continues to rebound sharply. From IHS Markit today:
SAARMonthly GDP rose 0.4% in November following a 0.5% increase in October that was revised higher by 0.2 percentage point. The increase in November was more than accounted for by a sharp gain in net exports. Domestic final sales declined in November, mainly reflecting declines in residential and nonresidential fixed investment. Averaged over October and November, monthly GDP was 3.0% above the third-quarter average at an annual rate. Implicit in our latest estimate of 2.6% annualized GDP growth in the fourth quarter is a 0.5% decline (not annualized) in December.
Nowcasts and tracking estimates revised up today. GDPNow for Q4 is at 3.9% q/q SAAR.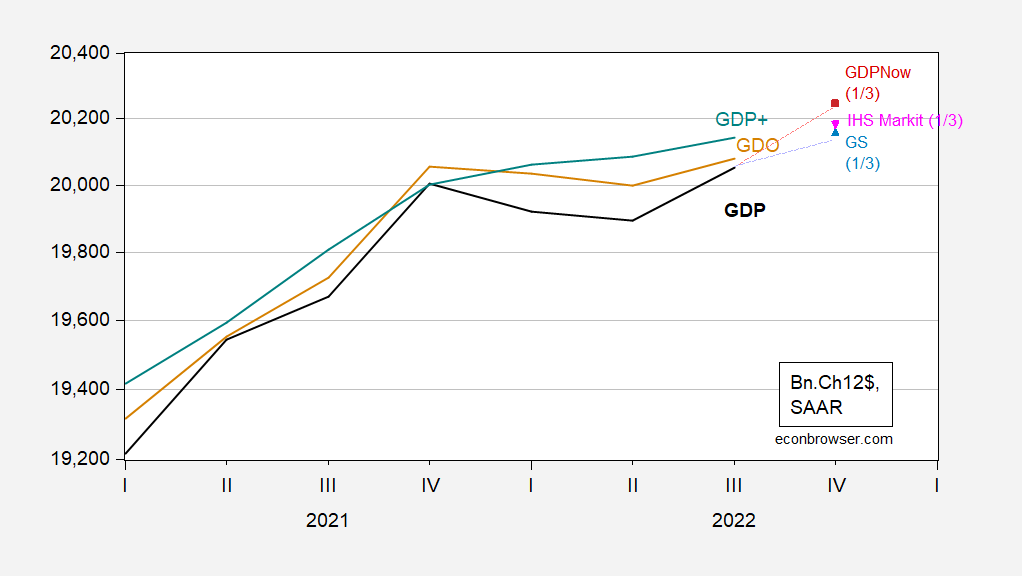 Figure 2: GDP (bold black), GDO (tan), GDP+ (green), GDPNow for Q4 (red square), Goldman Sachs (sky blue triangle), IHS Markit (inverted pink triangle), all in blillions Ch.2012$, SAAR. GDP+ level calculated by iterating on 2019Q4 GDP (when GDP and GDO matched). Lilac shading denotes peak-to-trough for a hypothesized 2022H1 recession. Source: BEA (Q4 3rd release), Federal Reserve Bank of Philadelphia (12/22), Federal Reserve Bank of Atlanta (1/3), Goldman Sachs (1/3), IHS Markit (1/3), and author's calculations. 
Notice that while GDP declines in 2022H1, GDO is essentially flat, while GDP+ is rising.
Summary of outlooks by financial firms, from Bloomberg here.