The Bureau of Economic Analysis today
released its advance estimates for the second quarter, reporting real GDP growth of 3.4%, implying
a very slight increase in the recession probability index to 4.7%.
Although June manufacturing and housing figures were extremely
strong, the 3.4% GDP growth rate for 2005:II is a little weaker than one might have hoped for
at this point in an expansion, and was assigned
a tentative grade of C+ on voluntaryXchange's academic grading system.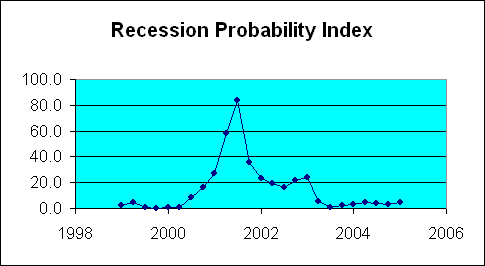 Using the new data, I've calculated the real-time GDP-based recession probability index for the
first quarter of 2005 to be 4.7, a slight increase from the value of 3.4 for 2004:IV. This marks
the seventh
consecutive quarter that the index has remained below 5%.
The index can be interpreted as the probability that the economy was experiencing an economic
recession at any given date. Like the business cycle dates assigned by the National Bureau of Economic
Research, this is a backward-looking index, describing where the economy appears to have been
in 2005:I, rather than a forward-looking prediction of where it will be at the end of the year.
NBER announcements of business cycle turning points are often made long after the event; for
example, the NBER waited until July, 2003 to announce that the most recent recession had actually
ended in November, 2001. By contrast, the real-time GDP-based recession probability index is
available with only a 4-month delay.
This index employs a pattern-recognition algorithm that compares the recent history of GDP
growth with the values that have been observed during historical recessions. Technical details of
the construction and historical performance of the index can be found here.