David Altig at Macroblog raises some
very thoughtful questions about the relation between the drop in the U.S. saving rate and the
current account deficit.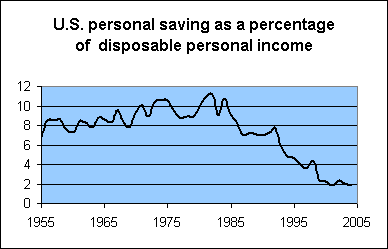 After drifting gradually up from 1955-1984, the U.S. personal saving rate began a steady and
very impressive decline. In earlier posts here and here, I joined many
others in expressing concerns about this trend, which most recently I believe has made a key
contribution to the U.S. current account deficit.
Of course the U.S. saving rate and the current account deficit are related through an
accounting identity, and certainly a good story can be told as to why the causation could run in
the opposite direction. In a recent post,
David Altig raises some doubts about my interpretation, arguing that, if the basic driving
factor were as I suggested an exogenous reduction in the U.S. saving rate, then in a large open
economy like the U.S., the added efforts by borrowers to obtain funds should drive interest
rates up. Altig favors instead an alternative hypothesis that the exogenous development was, as

Ben Bernanke also suggested in a speech last spring, an increase in saving by other
countries. Altig notes:
A willingness by foreigners to absorb U.S. debt ultimately corresponds to a willingness to
export goods and services to the United States. Absent a desire by U.S. consumers to
automatically absorb those exports, prices adjust to stoke those desires — lower interest
rates, for example, that do the work of stimulating consumption spending.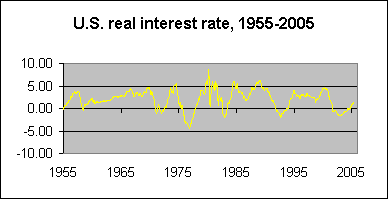 There are a variety of ways one might try to measure the relevant interest rate and correct
for expectations of inflation. Just to give us something concrete to discuss, the graph on the
left plots the 1-year Treasury rate minus the percentage change in the CPI over the preceding 12
months. This "real interest rate" series averages 2.22 from 1984-2005, a very slight increase
over the average 1.92 observed from 1955-1983. One could pretend to see, if one were
unashamedly snooping about for evidence in support of my interpretation, an increase of a couple
hundred basis points in real interest rates when the drop in saving first began in 1984 and
again when it accelerated in 1999. On the other hand, one would have to be blind to miss the
much bigger drop in real interest rates in 2001, which is where Dave would really like us to
focus for his version of the story. I'm nevertheless inclined not to read too much into any of
these particular hills and valleys, because I believe that the Federal Reserve has really been a
dominant player in all of them, with it (plus the drop in investment demand during the 2001
downturn) being largely responsible for both the drop in interest rates in 2001 as well as the
more modest moves up in 1984 and 1999.
I'm inclined to view interest rates as something that could have been used to distinguish
these hypotheses, but, given the data, didn't turn out to give us a clear signal one way or the
other. However, I'm not willing to call it a draw on that basis, because I think interest rates
are forced to play a much more important role in the Bernanke-Altig interpretation than in mine.
For my interpretation, one could easily suppose that the failure to observe a more dramatic
increase in real interest rates since 1984 is due to the fact that the rest of the world is a
pretty big place, capable of absorbing quite a bit of extra U.S. borrowing without driving the
world interest rate up very much. So any rise in interest rates that resulted from the drop in
U.S. saving might be pretty hard to detect, particularly with other variables changing all the
time as well. By contrast, the mechanism whereby the extra global saving is supposed to
translate into lower U.S. saving has to operate through a drop in the interest rate. Academic
research has typically failed to find a very strong response of consumption spending to interest
rates; see for example Motohiro Yogo's
very nice paper in the Review of Economics and Statistics in August 2004. To explain
the drop in the U.S. personal saving rate since 1984 as having resulted from a change in saving
patterns outside the U.S., one would have to claim that a drop in interest rates that is too
subtle even to detect from most obvious measures was somehow powerful enough to cause the U.S.
personal saving rate to fall from the near-double-digit value it had maintained for a generation
down to practically nothing.
In a
follow-up post, Altig interprets the housing boom since 2001, as I do, as being driven by
low interest rates, and thinks of this as one part of the mechanism whereby the global savings
glut has translated into higher U.S. spending. Even if one is prepared to dismiss the role of
the U.S. Federal Reserve in lowering interest rates in 2001-2002, this again comes back to the
question of whether the drop in U.S. saving is an event you want to date as having begun in 1984
or instead as an event of relatively recent origin.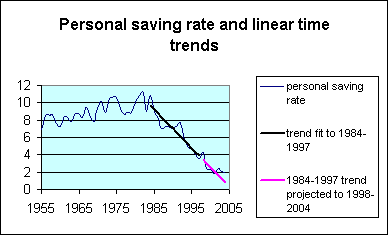 Here again is the U.S. personal saving rate graph, this time with the addition of a linear
time trend fit by least squares to the data for 1984-1997, and then extrapolated to 1998-2004.
Bernanke wants to begin the story with the Asian financial crises in 1997. But it appears from
this simple exercise that the drop in the U.S. personal saving rate since that date is not in
any material way very different from what one would have expected to see on the basis of the
trend that was pretty clearly defined well before 1997.
It is true that this drop in the U.S. personal saving rate did not show up as an equally
steady increase in the U.S. current account deficit since 1984, owing to the behavior of other
components of the accounting identity relating the two, such as corporate saving, investment
demand, and the government budget deficit, as further discussed by Altig in his second post.
Nevertheless, it seems odd to me to try to tell a story for what happened after 1997 to the
series plotted in the graph above that has nothing to do with the factors that produced the
long-run trend. And if you do perceive it as a single dominant trend, a contribution of that
trend to the current account deficit seems hard to deny.
And furthermore, if you don't think the chicken came first, then there must not be such a thing as an
egg.