What would be the important effects?

With the impending decision by the Treasury regarding whether the Rmb has been manipulated, and the surging protectionist pressures in the Congress (see here), it might be useful to think about the important effects of a Chinese revaluation, were it to occur.


Contrary to popular — although not unanimous — opinion, I do not believe the biggest effect of the revaluation will be on the amount of imports into the U.S., or even the amount of Chinese imports. This view was echoed in a recent FT article.


There are two parts to my reasoning. First, the relevant price elasticities are quite small. In fact, in one study, the relevant estimated elasticity for the 1994-2001 period is not statistically significant (see also Mann and Plueck's estimates in Table 6). One set of elasticities used by Goldman Sachs indicates a Chinese import price elasticity of 0.2 and an export price elasticity of 0.5 (see this CRS report). The sum of these elasticities is less than one, indicating that the Marshall-Lerner conditions do not hold. Now, it is unclear (to me) how these estimates were obtained, and what the extent of uncertainty surrounding these estimates are. But I suspect the presumption that the elasticities are low make sense, given that there is a large imported component in Chinese exports (see some slightly older estimates by K.C. Fung).


Second, to the extent that the U.S. trade imbalance is driven by U.S. savings and investment patterns, a Chinese revaluation (holding all else constant) would merely re-allocate the U.S. trade deficit to India, Thailand, Malaysia, Korea,… (The graph below is helpful in that regard, even if it is slightly out of date — it shows the fact that China has run a trade deficit with the rest-of-the-world ex. US).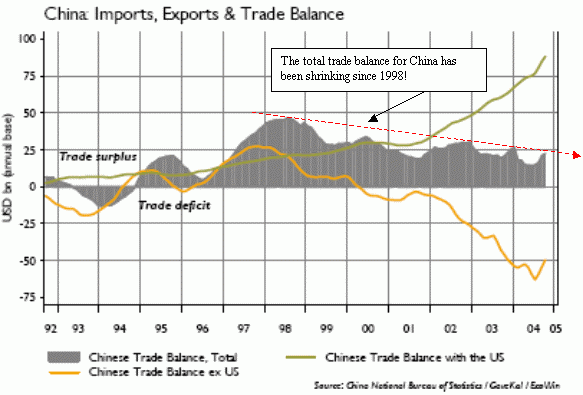 Source:
MarketThoughts.com, "China – Basic Background and Current Issues, Part III."

Addition on 3/29/06: Brad Setser is right — here is an updated CA picture for China, based on IMF WEO data.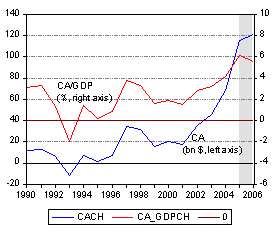 Source: IMF, WEO, Sep. 2005.

This is not to say that accelerated Chinese appreciation would have zero impact. In fact, if other East Asian currencies appreciate in line with the Rmb (i.e., if China is a first-mover), then this will mean that acquistion of U.S. Treasury securities will be moderated (and as we all know from Brad Setser's work, Chinese acquisitions alone are substantial), U.S. interest rates rise, further depressing consumption and asset price behavior in the U.S. This is where China's exchange rate policy is important — not in changing the relative price of Chinese goods, but rather in altering asset prices and hence capital flows.


Final point: As I have stressed elsewhere, Chinese revaluation in this context is an important adjunct to global rebalancing; but it is not a substitute for fiscal consolidation in the U.S. Something to remember, as the public debate centers on China, and ignores the impact of the burgeoning U.S. budget deficit and the rising share of the trade deficit arising from high enery prices and energy import dependence.

Technorati Tags: trade deficit,
China,
reserve accumulation