What to make of the newest inversion?
Usually, I leave interpretation of the yield curve to my co-blogger Jim Hamilton, who is the real expert (see also this recent post), but as I prepared for the new semester's course in Money and Banking, I generated a picture that I could not resist posting. Here is the 10 year (constant maturity) minus 3 month (secondary market) spread over the past three decades, with NBER recession dates in gray shading.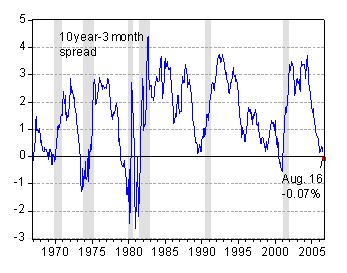 Figure 1:
Ten year-three month spread, in percentage points, monthly average of daily data (blue line), and spread as of 8/16 (red square). NBER recession dates shaded gray. Source:
St. Louis FRED II
,
NBER
, and author's calculations.

A snapshot of the entire maturity spectrum on 8/18 (green) and 8/17 (orange) is provided by Bloomberg.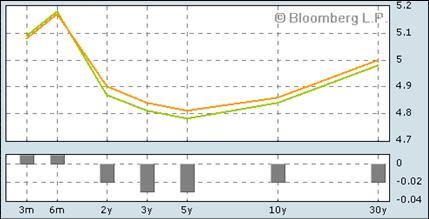 Figure 2:
Yield curve. Source:
Bloomberg
, accessed on 8/19.
Entering the data from Bloomberg for 8/18 into the Wright (2006) formula calculator at Political Calculations yields a probability-of-recession estimate of 44.3% (Note: his formula incorporates the use of the Fed Funds rate as well as the spread illustrated in Figure 1). Of course, this calculation is based on historical correlations, which might, or might not, be relevant to today's situation (remember the "conundrum").
Technorati Tags: recession,
yield curve.