Over the past few days, I've been trying to identify appropriate measures of the output gap (and trying to relate that to exchange rate changes). As I've done so, I've come to realize that (1) it's a difficult thing to do, and (2) interesting stories come out of different measures.
The easiest thing to do is to pull down the CBO's measure (interpolated to quarterly frequency). This yields the following picture (in logs):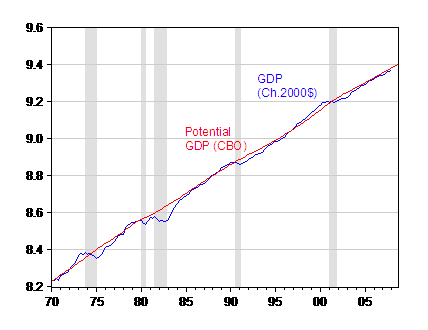 Figure 1:
Log real GDP (Ch.2000$, SAAR) (blue line), and log potential GDP. NBER-defined recession dates shaded gray. Source: BEA, GDP release of 29 May 2008, and CBO,
Update of CBO's Economic Forecast
(February 2008), data
[xls]
, and
NBER
.
Two observations: (i) recessions do not necessarily coincide with negative output gaps (although they do seem to coincide with the beginning of periods of negative output gaps); and (ii) recoveries do not always coincide with positive output gaps.
This is obvious when one thinks about it, given the NBER BCDC definition of a recession as the following:
A recession is a significant decline in economic activity spread across the economy, lasting more than a few months, normally visible in real GDP, real income, employment, industrial production, and wholesale-retail sales. A recession begins just after the economy reaches a peak of activity and ends as the economy reaches its trough. Between trough and peak, the economy is in an expansion. Expansion is the normal state of the economy; most recessions are brief and they have been rare in recent decades.
That is a recession is the description of the first derivative of output taking on a negative value, while an output gap is a description of output relative to the output level consistent with the "normal" utilization of factors of production (also "full-employment"). For details of how CBO calculates potential GDP, see this document.
Looking at the last ten years provides another insight.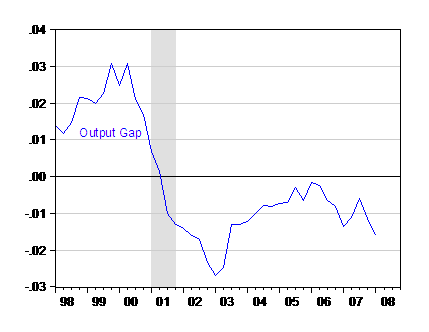 Figure 2:
Log real GDP (Ch.2000$, SAAR) minus log potential GDP. NBER-defined recession dates shaded gray. Source: BEA, GDP release of 29 May 2008, CBO,
Update of CBO's Economic Forecast
(February 2008)
[xls]
,
NBER
, and author's calculations.
The US economy only barely made it close to full-employment in the expansion of 2001-2007/8/?, and is now declining again. I think I had realized this (especially in the course of various past debates over the surge in tax receipts, which I think has now been resolved — see [1], [2] for a recollection.)
As I noted in the beginning of this post, I was finding it difficult to discern the most appropriate measure, so I will share the other measures I have investigated as indicators of potential (or "trend") GDP (which can then be used to calculate corresponding measures of the output gap): (1) the Hodrick-Prescott filter; (2) the Band Pass filter; and the quadratic time trend.
The Hodrick-Prescott filter is a ubiquitous two-sided filter used in time series macroeconometrics and elsewhere (I've even seen it used in the analysis of temperature data! [3]). Essentially, the HP filter calculates a trend that minimizes the weighted sum of squared deviations from trend, and squared changes in the the growth rate of the trend. This weighting is controlled by a parameter which is usually set at 1600 for quarterly data. As a public service, I'll note there are serious hazards associated with this filter, especially when trying to correlate various macro series that have been put through the same filter [4].
There is an additional problem (which is often ignored), namely that the HP filter is two-sided, so that running the filter up to the end point of data will tend to result in the trend being too close to the last data point (in our case, the output gap will be pulled to zero).
There are several band pass filters; the one most commonly used in the macroeconometric literature is the Baxter-King version.
Band pass filters are called this because (in the frequency domain) they pass through any cyclical components within a particular frequency band, and elimates the others. In the time domain, this means fluctuations that are shorter or longer than a specific length are ignored. In the business cycle area, then, in order to use this filter, one would have to have a prior on how long a "typical" business cycle is. More on both the HP and BP filters can be found in Tim Cogley's entry for the New Palgrave Dictionary of Economics [5].
The final means of identifying the output gap is to the simplest (at least in implementation) — take the deviation from an estimated quadratic trend in time. This is not an uncommon procedure, but if you are pretty confident there is a unit root in log GDP, you might feel a little queasy about doing this [6]. But for completeness' sake, I'll show what happens when you do this as well.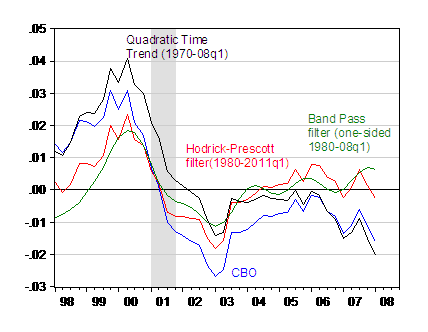 Figure 3:
Output gap measured as deviation from CBO potential (blue), HP filter (red), BP filter (green), and quadratic time trend. Source: BEA GDP release of 29 May 2008;
Update of CBO's Economic Forecast
(February 2008), data
[xls]
,
NBER
, and author's calculations.
Note that in order to circumvent the two-sided filter aspect of the HP filter, I have done a standard fix, which is to use an ARIMA(1,1,1) on log GDP over the 1980-08q1 period to dynamically forecast out 12 quarters, and then apply the HP filter to this "extended" series. I could have done a similar procedure for the BP filter, but opted to use the Christiano and Fitzgerald (2003) one-sided asymmetric version of the band pass filter to estimate the trend series.
First, the good news. Using the band pass filter, one finds that the output gap is still positive, at less than one percentage point of GDP in 2008q1. The HP filter indicates an essentially zero output gap. The quadratic trend indicates something similar to what the CBO indicates — something close to a 2 percentage point negative output gap in 2008q1, versus 1.5 percentage points for CBO.
I don't want to say that there is one best version. Variations in the sample period, and the parameters used in each filter, will change the results. And of course, data revisions will mean the real-time output gaps will differ from the final revised output gaps we estimate today using either mechanical or judgmental approaches. For a pessimistic view regarding real time use, see Orphanides and van Norden (2004) [pdf].
Nonetheless, the distinction between the rate of change in economic output, and where output levels will gravitate to (and at what pace) is a useful one. And I think it will become of greater usefulness as the slowdown ends, if and when growth resumes. In particular, I'm thinking of whether the pattern of smaller — but more persistent — ups and downs continues (the half life of a deviation from potential has risen from 8 quarters in the 1970-90q1 period to 11.6 quarters in the 1990q2-2008q1 period).
[Update – 3pm 12 June]

Simon van Norden (aka SvN) has taken up the challenge, and provided a graph depicting the output gap plus a 95% confidence interval. He writes:
Your recent post got me interested enough to update some of my code on estimated output gaps. I've attached the resulting graph in PDF and PS form; please feel free to post either one.



I downloaded the latest real GDP figures from FRED (GDPC96) and fit the log of the series using Harvey-Jaeger's (JAE 1993) model; this allows for time-variation in the growth rate of potential plus cyclical dynamics. While other univariate state-space models can give similar results, they found that theirs gave results for the US that were very similar to those of the HP filter. The graph shows our best estimates of the cyclical component of their model (a.k.a. the output gap) as well as its 95% confidence interval. [Technical note: These are the smoothed estimates, so we see the confidence intervals flare out as we get close to the end of the sample. Also note that these include parameter uncertainty using the Ansley-Kohn method; in this case Hamilton's method gave almost identical standard errors.]



The graph shows that variations in the estimated output gaps over the past 3-4 years are dwarfed by their confidence intervals (although, to be sure, the latest data point shows a move from above potential to below.)



Figure 4: Smoothed output gap, per Harvey-Jaeger (2003). Source: personal communication, Simon van Norden.

The underlying article can be accessed via JSTOR, here.
Thanks, Simon!
[Late update: 16 June]
Caroline Baum has a interesting artice discussing the schizophrenic nature of economic announcements in these times. See
"Market Mood Swings From 'Om' to OMG! and Back".
Technorati Tags: potential GDP,
recession, output+gap,
full employment output, trend.