The CBO has posted an actual "cost estimate" on HR 1 (not just a partial examination of Division A, as explained in the Director's Blog, the locus of great disinformation in previous discussions, as recounted by Dean Baker). Here is a graphical depiction of what CBO believes will be the impact on the deficit (once again, recalling that there is an explicit omission of repercussion effects on tax revenues and transfers that would arise from elevated aggregate demand; in other words, this is the estimated impact on the full employment budget balance).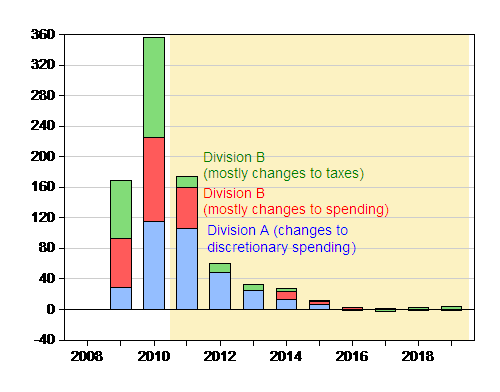 Figure 1: Estimated spending and tax revenue reductions, per fiscal year, embodied in HR 1. Shaded areas pertain to spending occurring outside of the 20 month time frame. Source: CBO, Cost Estimate of HR 1 (January 27, 2009).


The breakdown of appropriations and estimated spending is to be found in the last pages of this report.


I notice that some people are arguing that some of the spending is taking place outside of the time frame that is relevant. I refer such individuals to the CBO's estimate of the output gap, discussed in this post; note how persistent the negative output gap is. Thinking back to how some of these same individuals argued against further stimulus a few months back, because it was too early to tell whether the first stimulus package from January 2008 had worked, I am reminded of this graphic (albeit applied to a different context).