The exchange between Brad Delong and Greg Mankiw ([1] [2], followed up by [3] [4]) reminded me of some earlier work I'd done with Yin-Wong Cheung on the time series properties of real GDP, back in the "unit root" wars. Briefly, Mankiw was alluding to work with Campbell indicating GDP was well approximated as an ARIMA process, while Delong is arguing that using unemployment, which is trend stationary, indicates that indeed sharper increases in unemployment presage more rapid GDP growth. The former characterization is univariate in nature and the latter is bivariate. Of course, we've moved on since those days — the entire VAR and SVAR literature expands the set of variables, but at the cost of greater complexity — but simple characterizations can still be useful.
This brings me to the results Cheung and I obtained. In "Further Investigation of the Uncertain Unit Root in U.S. GDP" (NBER technical working paper here), we found that using post-War quarterly GDP up to 1994, we couldn't reject the null hypothesis of a unit root, nor the null hypothesis of trend stationarity (using the ADF and KPSS tests, respectively). However, for annual data from 1869 to 1994, we could reject the unit root null and fail to reject the trend stationary null (we were working with per capita numbers, but the difference is unessential).
Here's a plot of (log) GDP.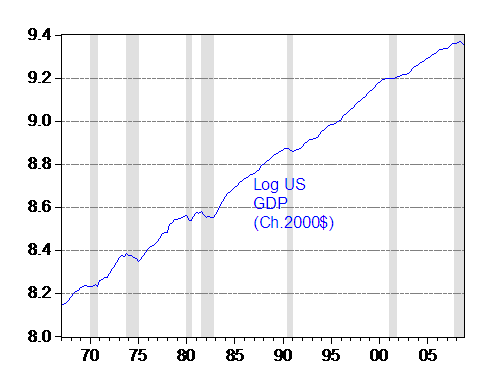 Figure 1:
Log US GDP in Ch.2000$, SAAR. NBER defined recession dates shaded gray. Assumes current recession has not ended by 2008Q4. Source: BEA GDP release of 27 February 2009, and NBER.

I thought if I updated the analysis to include data up to 2008, I'd obtain similar results. Imagine my surprise when I found that for data 1967q1-2008q4, the ADF (w/constant, trend) test rejects the unit root null with a p-value of 0.048, and the Elliott-Rothenberg-Stock Dickey-Fuller test at the 0.01 level. At the same, the KPSS (trend stationary null) test fails to reject at conventional levels. (The annual results confirm the results Cheung and I obtained earlier). In other words, over the last forty years, log US GDP looks trend stationary.

What's the relevance of these findings to the current debate? First, let me say I don't think this has any impact on how one thinks about the relative importance of technology versus demand shocks. Second, I don't think univariate analyses are the only way to go (for instance, in ordinary times, one might want to use consumption to infer potential GDP, and hence identify the trend in GDP). But what it does tell me is that the Campbell-Mankiw characterization of real GDP as being best fit by an ARIMA is perhaps no longer most apt. (For more on unit roots and trends from a nontechnical perspective, see this post.)


Two caveats.



Just because one finds the data rejects a TS null doesn't mean that that is the best way to treat the data in, say, regressions involving other variables. I.e., just because the data is trend stationary doesn't mean that shocks to the series can't be persistent. They might be so persistent that a unit root characterization is not a bad approximation.

The rejection of the unit root null is sample dependent. Extending the sample back to 1947q1 yields a failure to reject the unit root null (the series still fails to reject the trend stationary null).
A simple regression of log GDP on a time trend and lagged log GDP, over the 1967q1-08q4 period yields the following:
yt = 0.424+0.0004time + 0.945yt-1
Where Adj-R2 = 0.9995, SER = 0.008

The AR1 coefficient of 0.945 (se = 0.03) implies a half life of 12.25 quarters, or slightly over 3 years for a deviation from output. Since AR coefficients are biased downward, this is a downwardly biased estimate of the half life.


Given that output is trending upwards (at about 3% per annum, in log terms) in a deterministic fashion, then the argument that big drops in output are accompanied by faster growth rates makes sense. The CEA post that makes use of the regression from the 2009 Economic Report of the President [large pdf] produced by the Bush White House (reproduced below) is in this world appropriate (in Mankiw's unit root world, it wouldn't be appropriate).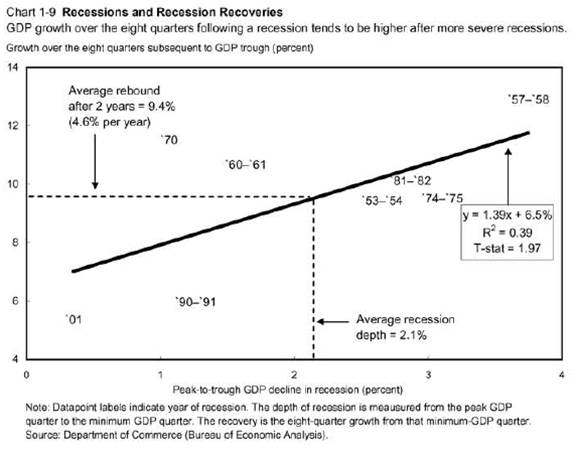 Chart 1-9:
From
Economic Report of the President, 2009
Chapter 1 pdf.

That being said, I think that additional information is always useful. And in this case, I stressed (in my last discussion of this graph) that the overpredicted growth rates were for the recoveries associated with financial system problems, such as a credit crunch. This means (in my opinion) that it is essential to fix the banking system in order for the faster growth to be realized.

Note that I haven't addressed any issues regarding trend breaks as an alternative to unit roots or trends. Interested readers can refer to this paper, in a cross-country context.
Update, 7:50am Pacific 3/5: Steve Blough reminds me of another caveat: "Just because a time series has a unit root doesn't mean there isn't a substantial "bounceback" (mean reverting) component. In a univariate model ARIMA model that just means a large negative dominant moving average root. The mere presence or absence of a unit root doesn't mean much of anything about persistence over a finite horizon."