There's been a lot of discussion of whether the Administration's forecast is too rosy. [1], [2], [3], [4], [5], [6] I thought it useful to examine this issue a bit more deeply.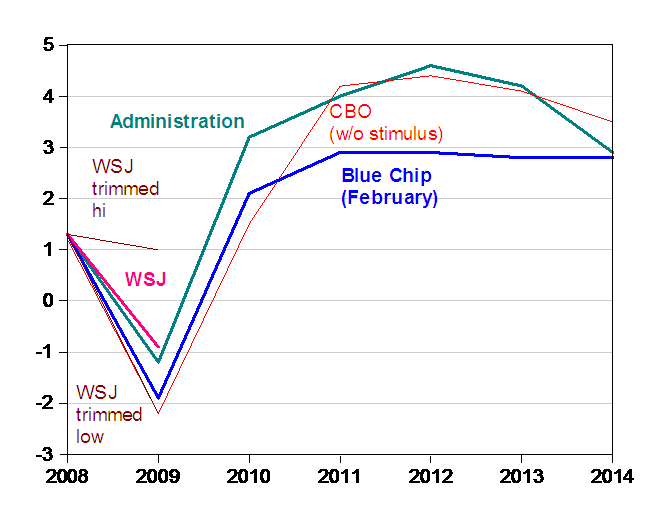 Figure 1: Real GDP q/q y/y growth rate from Administration (teal), CBO without stimulus (red), February Blue Chip (blue), WSJ mean forecast from February survey (pink), and WSJ trimmed high and log (dark red). WSJ trimmed values delete the top five and bottom five (out of 52) respondents. Source: OMB, CBO (March 2, 2009), and WSJ.

Note that while the Administration's forecast is slightly above the Blue Chip, it is slightly below the mean WSJ forecast (February) at least for 2009. And the Administration forecast is well within the 10% trimmed range of forecasts from the WSJ (that is, I've cut off the top 5 and bottom 5 forecasts from the 52 respondents for the February survey regarding 2009 y/y growth). In other words, this graph confirms the WaPo conclusion:
…while upbeat, the administration's forecasts are within the range of reasonable possibilities, according to economists we consulted.
Some discussion of where the Administration's forecast relates to CBO's is here. Dr. Romer provides additional insight here. I reproduce a graph from that discussion below: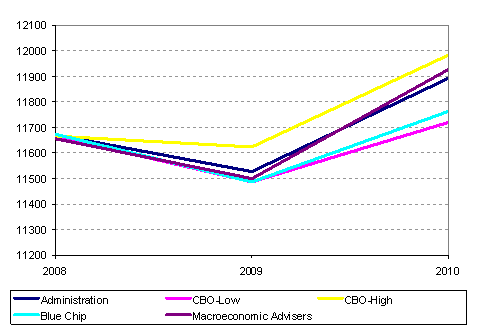 Figure 1
from
"Economic Projections and the Budget Outlook, February 28, 2009
.
CBO has presented their assessment of the stimulus bill in this report released today. The key graph regarding the impact on the output gap is below.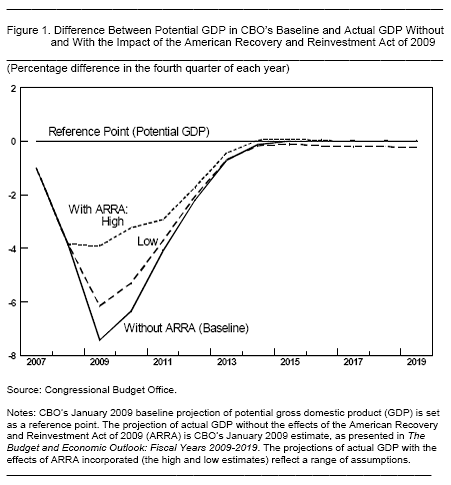 Figure 1
from
CBO, Estimated Macroeconomic Impacts of the American Recovery and Reinvestment Act of 2009, March 2, 2009.
Notice that CBO has presented the impact based upon a range of estimated multipliers. Hence, the calculations are transparent.
I will observe an interesting correlation: a good number of those who critique the Obama Administration's forecasts the most vociferously are also typically the ones who had no criticisms of the previous Administration's tendency to place off-budgeting process expenditures for Iraq and Afghanistan, as well as emergency expenditures [7]. For additional discussion, see Jeff Frankel's comprehensive assessment.