In today's Economix post, Casey Mulligan argues that the greater than predicted unemployment numbers should not be ascribed to the negative effect of the stimulus, but rather to bigger than anticipated negative shocks.
We cannot blame the Obama administration for failing to predict June's 9.5 percent unemployment rate. That result just shows the size of the shocks hitting the economy: Even the best forecasters can miss the unemployment rate by almost two percentage points, even when forecasting fewer than six months ahead.
That makes sense, and is in line with my previous post. But he then argues that since we've seen little stimulus effect so far, we should cancel the stimulus, since it'd be costly on a per-job basis (and in any case, he believes the effect on GDP to be small [1]). These are interesting assertions meriting further analysis.
Stock-Flow Mismatch
We're all free to use whatever multipliers we want (although I like to look at ranges, in order to safeguard against prejudices) in making our arguments. But one thing we shouldn't do is confuse stocks and flows. Professor Mulligan writes:
"The Obama administration had said that the stimulus bill would "save or create" 3.5 million jobs while adding $787 billion to the federal budget. Admittedly, some of this money went to taxpayers and to some worthwhile public works, but it also created additional economic burdens in the process of collecting the taxes and issuing the debt to pay for it. To an order of magnitude, the promise of those 3.5 million jobs cost a quarter of a million dollars per job promised."
Note that $787 is spent over several years (a flow). 3.5 million jobs is a stock. But wouldn't we want to incorporate how long those jobs would be around? That suggests we should use job-years instead of jobs, to make the numerator and denominator comparable. The Administration estimated the number at 6.8 million [2]. That works out to a cost per job-year of $116 thousand.
From my perspective, I view the appeal to the number of jobs created and saved alone as an inadequate approach. Rather, I think the concept of focusing on output makes more sense, as it incorporates indirectly how much income goes along with that employment. And GDP incorporates the returns to land and capital, as well. Furthermore, to the extent that economic activity is above what would obtain without the stimulus, then asset prices (think houses, plant and equipment, etc.) are above what they otherwise would be. Focusing on jobs, even job-years, or even output, omits these factors. On the other side, of course, one accumulates debt, and in the absence of slack, induces crowding out. Those potential effects should also be acknowledged (and are incorporated in the simulations conducted by CBO, IMF, etc.)
Sectoral Stimulus Mismatch
I do wonder about Professor Mulligan's assertions that the effect of stimulus spending will be limited due to absence of slack resources in targeted sectors. In particular, he has argued that stimulus spending directed to health care will have little multiplier impact since unemployment in that sector is low. However, the most recent Employment Situation reveals for June 2009, unemployment in health services was 5.2 percent, compared to 3.1 percent in June 2008. As an aside, while Professor Mulligan didn't mention education services, I'll observe that a lot of spending in the stimulus bill went either directly or indirectly (via transfers to the states) in support of education. Unemployment rates in June 2009 were 9.8 percent, compared to 4.8 in June 2008…I think some slack exists even in these sectors doing relatively well.
Construction Crowding Out
By the way, Professor Mulligan argues that the presence of offsetting cycles in residential and nonresidential construction suggests that the spending now occurring in nonresidential construction will result in crowding out of residential spending. This is a quite interesting approach to the question of crowding out, although not, in my opinion, the natural way. It seems to me one would want to examine the cross correlation of private and public construction. It turns out that the Census Bureau reports these numbers here. The resulting graph is below: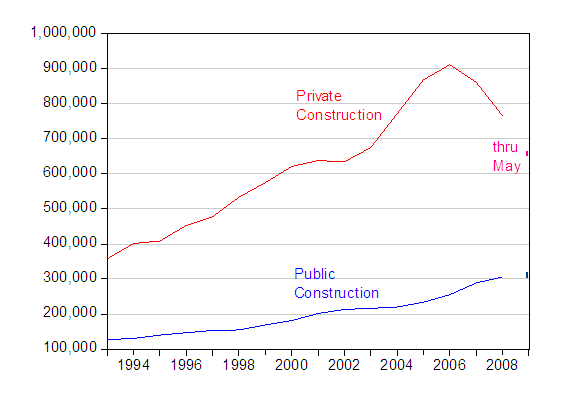 Figure 1: Public construction (blue) and private construction (red), in millions of dollars. Data for 2009 is Jan-May, annualized. Source: Bureau of Census.
A Granger causality test on first difference of each series (2 lags) fails to reject the null hypothesis that public construction does not cause private construction, at the 5% msl. On the other hand, the test rejects the null that private construction does not cause public construction at the nearly 1% msl. This is hardly a formal test, and I suspect that this conclusion could be overturned by different specifications. However, the main point is the evidence for crowding out is hardly overwhelming.
Output Multipliers
So, in my opinion, let's return to output multipliers in our discusion of fiscal policy efficacy (timing has been dealt elsewhere [2] [3], [4]). Professor Mulligan is free to use whatever multipliers he believes in. I'll rely upon a range, and here's the range the CBO uses.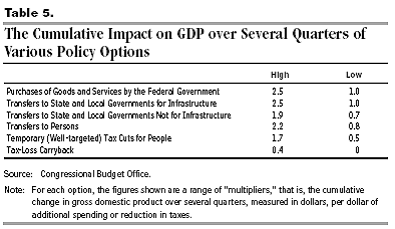 Table 5: from The State of the Economy and Issues in Developing an Effective Policy Response," testimony of CBO Director Douglas Elmendorf, January 27, 2009.
Technorati Tags: Casey Mulligan, recession,
stimulus, crowding out.