Bringing New Research Developments to Bear
The President's goal of doubling exports elicited a lot of discussion, and skepticism. In a previous blog post, I examined the prospects of accomplishing this goal from a macroeconomic perspective. However, a few discussions I've had with journalists have reminded me that the frontier of international trade theory has moved considerably over the past few years, even as the much of the economic commentary remains mired in the older models. In this respect, the most recent edition of the Economic Report of the President was extremely welcome, as it brought to bear recent innovations in the trade literature.
One observation, not yet firmly in the literature when I first started teaching international trade (link to my old course), was the role of heterogeneity across firms of productivity. Of course, in the simple one-factor Ricardian model, unit labor costs (the inverse of labor productivity) are critical in determining comparative advantage. With a few extra assumptions, the same is true in the infinite-good version of Dornbusch-Fischer-Samuelson. But these models really couldn't deal with the observation, associated with Bernard and Jensen among others, that higher productivity firms tend to be exporters. What is the real world implication of this observation? From the Economic Report of the President, 2010 (pages 133-34):
The Administration is taking many concrete steps to encourage exports. The Trade Promotion Coordinating Committee brings government agencies together to help firms export. While the final decision of whether and how much to export is a market decision made by private businesses, the government can play a constructive role in many ways. The Export-Import Bank can help with financing; consular offices can provide contacts, information, and advocacy; Commerce Department officials can help firms negotiate hurdles; a combination of agencies can help small and mid-sized businesses explore overseas markets. Much of the academic literature in trade models a firm's decision to export as involving a substantial one-time fixed cost (Melitz 2003). The Administration is doing all that it can to lower that initial fixed cost to help expand exports.
As an aside, I think it's a long overdue development that the ERP 2010 contains references for the theoretical/empirical results cited; hopefully this will help return knowledge-based decision-making to policy debates.
What is the innovation that the Melitz model brings? From the abstract:
This paper builds a dynamic industry model with heterogeneous firms that explains why international trade induces reallocations of resources among firms in an industry. The paper shows how the exposure to trade will induce only the more productive firms to enter the export market (while some less productive firms continue to produce only for the domestic market) and will simultaneously force the least productive firms to exit. It then shows how further increases in the industry's exposure to trade lead to additional inter-firm reallocations towards more productive firms. These phenomena have been empirically documented but can not be explained by current general equilibrium trade models, because they rely on a representative firm framework. The paper also shows how the aggregate industry productivity growth generated by the reallocations contributes to a welfare gain, thus highlighting a benefit from trade that has not been examined theoretically before. The paper adapts Hopenhayn's (1992a) dynamic industry model to monopolistic competition in a general equilibrium setting. In so doing, the paper provides an extension of Krugman's (1980) trade model that incorporates firm level productivity differences. Firms with different productivity levels coexist in an industry because each firm faces initial uncertainty concerning its productivity before making an irreversible investment to enter the industry. Entry into the export market is also costly, but the firm's decision to export occurs after it gains knowledge of its productivity.
In many standard models taught in a typical undergraduate course, any aid to exporters are merely transfers to the exporters, and result in a dead weight loss to the nation. I have the feeling that a lot of people still run around with models of that nature in their head; yet these models are wholely incapable for explaining the patterns we observe in real world pertaining to what firms participate in international markets.
Productivity vs. Factor Proportions?
I would be the first to say that productivity is not the be all or end all. Comparative advantage derived from factor proportions also plays a role (or else I'd better stop teaching it in my trade course). My new colleague, Isao Kamata, has an interesting paper ("Comparative Advantage, Firm Heterogeneity,
and Selection of Exporters") that addresses how both productivity and factor proportions motivations can coexist in the same model.
… This paper explains this cross-industry and cross-country variation in the exporter fraction from the perspective of comparative advantage, in particular comparative advantage in terms of factor
proportion. Although other potential country-specific or industry-specific determinants of the
selection of exporters can be considered, the empirical analysis in this paper shows that the
observed patterns of the exporter fraction can be well explained by comparative advantage, or
countries' relative factor abundance and industries' relative factor intensity.




The influence of factor proportion-based comparative advantage on difference in firmlevel
export decision has been theoretically examined by Bernard, Redding and Schott (2007).
They incorporate the model by Melitz (2003), which has provided a theoretical benchmark
explaining the empirical regularity of self-selection of exporters (i.e., firms that are the most
productive in a domestic market become exporters), into a two-country, two-factor and twoindustry
framework. To derive a prediction describing an empirical relationship between the
exporter fraction and factor proportion, this paper extends the model by Bernard, Redding and
Schott to a multi-industry framework. That is, this paper considers an economy that comprises
two countries differing in the relative abundance of two production factors (skilled and
unskilled labor) and a large number of industries differing in the relative intensity of the two
production factors. In these two countries each industry is populated with a continuum of
firms differing in total factor productivity. Two threshold levels of firms' productivity, one of
which divides domestic producers from "exiters" and the other divides these domestic
producers into exporters and non-exporters, are created through monopolistic competition and
costly international trade. However, the impact of international trade on the two productivity
cutoffs is asymmetric across industries, due to the difference in factor proportion. Keener
competition among firms seeking larger potential export profits raises the domestic production
productivity cutoff more in comparative-advantage industries, while the cutoff for exporting is relatively lower in these industries due to the comparative advantage over foreign
competitors. This impact of trade on the two productivity cutoffs is more pronounced with the
strength of comparative advantage; as a result, the "gap" between the two productivity cutoffs,
which is measured as the ratio of the export cutoff to the domestic-production cutoff, is the
largest in the industry with the lowest relative intensity of the factor with which the country is
relatively well-endowed, and the smallest in the industry with the highest relative intensity of
that factor. This ratio of the two productivity cutoffs determines the ex post fraction of
exporters among domestic producers (the smaller the gap, the larger the fraction). Therefore,
if all other conditions are equal between countries and among industries, in the relatively
more skilled-labor abundant country, the exporter fraction rises with an industry's relative
skilled-labor intensity, and vice versa.
Kamata examines four diverse countries — Chile, Colombia, India, and the United States. He finds the evidence is consistent with the model. For instance, a scatterplot of proportion of exporter firms against skill intensity reveals an upward slope for the US, while this relationship is less pronounced in countries that do not possess a comparative advantage in high-skill goods.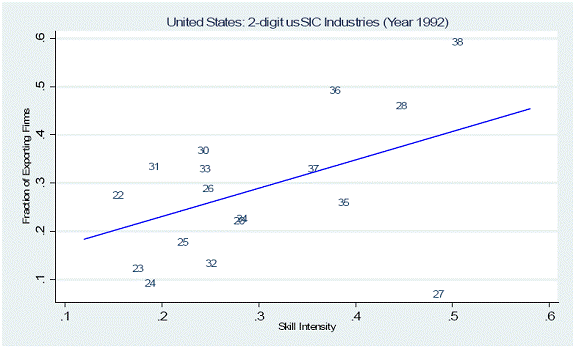 Figure 5:
Fraction of Exporters among All Active Firms vs Industry Skill Intensity: the United States. Numbers denote 2-digit SIC industries. Source:
I. Kamata, "Comparative Advantage, Firm Heterogeneity,
and Selection of Exporters," La Follette working paper No. 2010-05.
)
Policy Ramifications?
Kamata's paper does not contain any explicit policy implications. However, it seems to me (recalling I'm not a trade economist) that one of the implications of the model is that reductions in the fixed (per period) costs of entering into the export markets can have a particularly large impact on the proportion of firms that export when the country possesses a factor-proportions driven comparative advantage in that specific industry. This in turn suggests the emphasis should be placed on firms operating in industries which are high-skill intensive (assuming the US remains a high skill labor-abundant economy).
Another implication of papers in this literature more generally is that an open trading system leads to higher productivity through the reallocation of factors of production, but not only via the standard channels. From pages 278-79 of ERP.
Firm Productivity. Trade can also allow productive firms to grow
relative to less productive firms as they increase their scale. A new literature
on "heterogeneous firms" has focused less on differences in endowments
or comparative advantage across countries and more on how firms within
an economy respond to trade. A crucial insight in this literature is that
most firms do not engage in trade, but those that do are on average more
productive and pay higher wages. This literature shows that when a
country opens to trade, more productive firms grow relative to less productive
firms, thus shifting labor and other resources to the better organized
firms and increasing overall productivity. Even if workers do not switch
industries, they move from firms that are either poorly managed or that
use less advanced technology and production processes toward the more
productive firms. Thus, firm-level evidence demonstrates that trade
allows not only economy-wide advances through resource allocation, but
also allows within-industry productivity advances through reallocation of
resources across firms. This shift has clear welfare-enhancing impacts; see
Bernard et al. (2007) for a general overview of this literature.
That being said, I think a commitment to an open trading system requires more than "just say no" to protectionist measures. It also requires establishing the policy bases for mitigating protectionist pressures. This in turn (in my opinion) requires ensuring that the benefits of higher productivity and lower prices are also shared by those that experience the effects of competition from foreign producers. (See also [1].)