Or, counterfactuals, yet again.
Or, rejoinder to Casey Mulligan, Joseph Lawler, david, tim kemper and others.
From the WSJ March survey survey of forecasters, the results indicate that instead of the 0.15% growth rate recorded in 09Q4 y/y growth, the growth rate would have been -0.93%. For 2010Q4 Q4/Q4 growth, they forecast 3% growth, and in the absence of the ARRA, they would have predicted 2.2% growth.
In addition, 75% of the respondents believed the stimulus plan was a net positive for growth, 12% a net negative, and 14% neither.
In Figure 1, I depict log GDP, the implied path for GDP according to the WSJ survey, along with the 20% trimmed hi/low, and the levels of GDP implied in the absence of the ARRA (i.e., the "counterfactual").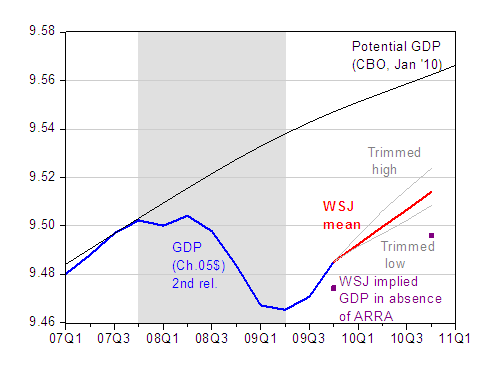 Figure 1:
Log GDP in Ch.2005$ (blue), mean WSJ forecast (red), and 20% trimmed high (pink) and trimmed low (gray) forecasts, mean predicted GDP in the absence of ARRA (purple square), and CBO estimate of potential GDP (black). Trimming removed the top 5 and bottom 5 forecasts out of 54 responses. NBER defined recession dates shaded gray, assuming recession end is 2009Q2. Source: BEA 2009Q4 2nd release,
WSJ March survey
, CBO, NBER, and author's calculations.