Today, we're fortunate to have Mark Copelovitch, Assistant Professor of Political Science and Public Affairs at the University of Wisconsin, as a Guest Contributor.
First off, let me thank Menzie for the opportunity to "pinch hit" here at Econbrowser. It's a pleasure to be here. I am Menzie's colleague in the La Follette School of Public Affairs here at Wisconsin, and my primary area of expertise is the politics of international finance.
Amidst rumors that Spain will be the next of the "PIGS" countries to seek a rescue package from the EU and IMF, the Bank for International Settlements has just published its Quarterly Review. The Review is always a must-read for those interested in understanding the current state of the global economy and international financial markets. I noticed two particular items of interest related to the ongoing eurozone problems.

The first is the detailed overview (Box 2, page 8) of the policy responses undertaken by the EU, IMF, and major G-20 central banks to restore financial market confidence in the eurozone. What is most striking is the speed and magnitude of the policy response. Indeed, what began as a $45 billion EU-IMF package for Greece on April 11, became a $750 billion effort by mid-May. This massive initiative included a substantially larger Greek rescue package ($110 billion) and the creation of a new $440 billion European Financial Stabilization Facility (EFSF), along with the extension of central bank swap lines between the major G-20 central banks and substantial ECB interventions to restore the depth and liquidity of European financial markets. Thus, despite the heated public opposition in Germany and elsewhere to a Greek bailout (and the initial dithering in March/April by EU leaders), European governments have quickly and forcefully moved to shore up Greece and the broader European financial system.


The second item, of perhaps even greater interest and relevance, is the release of the latest BIS data on bank exposure to the "PIGS" countries.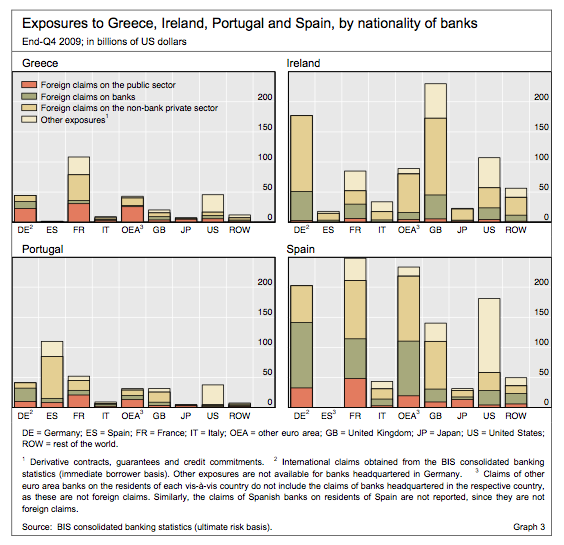 The data illustrate quite clearly how the PIGS' problems could become a broader European (if not global) financial crisis (emphasis added):
As of 31 December 2009, banks headquartered in the euro zone accounted for almost two thirds (62%) of all internationally active banks' exposures to the residents of the euro area countries facing market pressures (Greece, Ireland, Portugal and Spain). Together, they had $727 billion of exposures to Spain, $402 billion to Ireland, $244 billion to Portugal and $206 billion to Greece (Graph 3).



French and German banks were particularly exposed to the residents of Greece, Ireland, Portugal and Spain. At the end of 2009, they had $958 billion of combined exposures ($493 billion and $465 billion, respectively) to the residents of these countries. This amounted to 61% of all reported euro area banks' exposures to those economies. French and German banks were most exposed to residents of Spain ($248 billion and $202 billion, respectively), although the sectoral compositions of their claims differed substantially. French banks were particularly exposed to the Spanish non-bank private sector ($97 billion), while more than half of German banks' foreign claims on the country were on Spanish banks ($109 billion). German banks also had large exposures to residents of Ireland ($177 billion), more than two thirds ($126 billion) of which were to the non-bank private sector.



French and German banks were not the only ones with large exposures to residents of euro area countries facing market pressures. Banks headquartered in the United Kingdom had larger exposures to Ireland ($230 billion) than did banks based in any other country. More than half of those ($128 billion) were to the non-bank private sector. UK banks also had sizeable exposures to residents of Spain ($140 billion), mostly to the non-bank private sector ($79 billion). Meanwhile, Spanish banks were the ones with the highest level of exposure to residents of Portugal ($110 billion). Almost two thirds of that exposure ($70 billion) was to the non-bank private sector.
Two patterns are particularly interesting here. First, the banking sectors of the "core" eurozone countries — especially France and Germany — are even more heavily exposed to Spain than to Greece. Second, there is substantial heterogeneity in exposure to the PIGS countries: British banks are particularly exposed to Ireland, Spanish banks to Portugal, etc. Similarly, beyond the eurozone, US bank exposure is substantially higher to Spain and Ireland than to Greece or Portugal, while Japanese banks are far less exposed to all of the PIGS countries than their US and European counterparts.


So, what might all of this mean if the rumors are true and the remaining PIGS also turn to the EU/IMF for financial assistance? David Cottle, in his Wall Street Journal blog yesterday, hit on the key point:

These data are particularly interesting and well timed. Leaders in Europe's relatively prudent 'core' are conducting their own heated internal debates over the extent to which the profligate periphery ought to be bailed out with their voters' hard-earned funds and reputations. The idea of blank checks to Greece, Spain and all isn't one that resonates much with the German people by all accounts; it's hard to imagine the French are any more keen […] But, alas, the BIS' numbers blur the over-used distinction between 'periphery' and 'core' almost to the point of invisibility. For the latter, it may well be a case of 'bail out the debtors; the banks you save may be your own.'
As Cottle highlights, the key dilemma facing France, Germany, and the other "core" eurozone countries is that any EU/IMF rescue package has two simultaneous (and inseparable) effects. On the one hand, these packages are taxpayer-funded bailouts for the "profligate periphery." On the other, they are also bailouts for heavily-exposed German and French banks, and they may be necessary to ensure domestic financial stability in the "core" countries. As Cottle correctly emphasizes, you can't have one without the other.


I raise a similar point in my newly-published book, The International Monetary Fund in the Global Economy: Banks, Bonds, and Bailouts, in which I argue that the domestic financial interests of the IMF's largest shareholders have been a critical determinant of variation in IMF lending policies over the last three decades. As the Fund's largest quota contributors, the "G-5" countries (the US, Germany, Japan, UK, and France) exercise de facto control over IMF lending decisions. At the same time, the G-5 countries are also home to the largest private creditors in global markets, including the world's largest commercial banks. Consequently, G-5 bank exposure heavily influences these governments' preferences over IMF lending policies. In particular, I find that IMF loan size and conditionality vary widely based on the intensity and heterogeneity of G-5 governments' domestic financial ties to a particular borrower country. When private lenders throughout the G-5 countries are highly exposed to a borrower country, G-5 governments collectively have intense preferences and are more likely to approve larger IMF loans with relatively limited conditionality. In contrast, when G-5 private creditors' exposure to a country is smaller or more unevenly distributed, G-5 governments' interests are weaker and less cohesive, and the Fund approves smaller loans with more extensive conditionality. I find strong evidence that these patterns hold both within countries over time (I focus on IMF lending to Korea and Mexico from 1983-1997 in the book), as well as more systematically over time and across cases for the universe of IMF loans from 1984-2003.


So, what are the implications for a future EU/IMF bailout of Spain (or Portugal, or Ireland)? Despite the heated rhetoric by Angela Merkel, Nicolas Sarkozy, and others about the need for the PIGS to put their own house in order by imposing staunch austerity measures, we are quite likely to see even stronger support for Spain (and Ireland), given its importance for the profitability and solvency of French and German banks. Portugal, in contrast, is likely to fare worse than Greece, given its limited importance for the major eurozone (and G-5) banking sectors. At the same time, we are also likely to see tensions within the IMF over the size and terms of any contribution to future PIGS rescue packages, given that American and Japanese views about the importance of eurozone bailouts are colored by their own, less extensive, financial interests in these countries. Ultimately, whether the "core" countries in the EU and the IMF view a rescue package as a "bailout" or a worthy endeavor depends not only on whether the borrower in question has been "profligate," but also on their own domestic financial interests and the vulnerability of their own commercial banks to a potential financial crisis.