The Bureau of Labor Statistics reported Friday that the seasonally adjusted consumer price index declined in June to the lowest level since November. When we start to talk about the level of the CPI rather than its rate of change, you know that deflation could once again become a key concern.
6-month CPI inflation (quoted at an annual rate), 2000:M1-2010:M6. Data source: FRED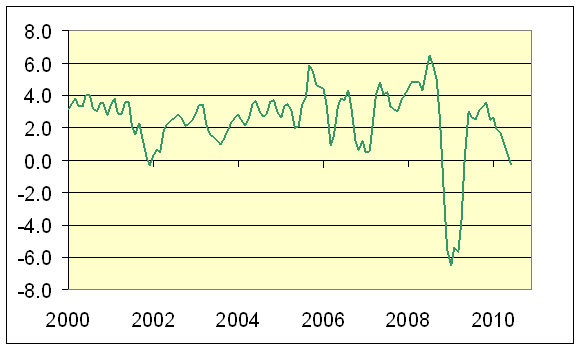 In normal times, the Fed faces a trade-off. It would like to stimulate the economy to help bring about faster output growth, but worries that the result might be too much inflation. But once we get into a regime of falling prices, those negative inflation rates can be damaging in and of themselves. With the price level currently falling and the unemployment rate alarmingly high and persistent, if there ever was a time when the Fed wanted to push down the gas pedal, now would be it.
So why doesn't it? The traditional tool by which the Fed stimulates the economy is to increase the reserves it supplies to the banking system in order to bring down the fed funds rate, which is an interest rate on overnight loans between banks. But with that interest rate now effectively at zero and banks holding excess reserves over a trillion dollars, that traditional tool has become completely irrelevant. Conventional open market operations, in which the Fed purchases T-bills with newly created reserves, are just exchanging one asset (T-bills, a short-term liability of the Treasury which pays a near-zero interest rate) for another virtually identical asset (reserves, a nominal liability of the Fed which pays a near-zero interest rate), with no consequences for any private-sector decision.
The claim that a central bank could become completely unable to debase the currency if it wanted has always seemed odd to me. Even if reserves and T-bills become equivalent assets (and at the moment they surely are), reserves are not equivalent to any number of other assets. Nothing prevents the Fed from buying longer-term assets, continuing to create reserves at will for the purpose until the yields on those assets adjust. And yet, the Fed has bought over a trillion dollars worth of mortgage-backed securities, and we're still not where we want to be.
Or for that matter, the Fed could start buying goods directly, or equivalently, let the Treasury buy the goods and have the Fed simply buy up all of the debt that the Treasury cares to issue. That the price of goods would be unaffected regardless of the quantity purchased seems quite implausible.
And even if we limit ourselves to conventional open market operations, the fact that banks are currently satiated with reserves does not mean that the Fed has no powers to affect current economic activity. As long as we believe that at some future date we will have moved away from the satiation point and return to a regime in which short-term interest rates are once again meaningfully positive, open market operations at that future date will have their usual power to affect interest rates and prices. Those future price levels and interest rates are in turn tied to current prices and long-term rates through expectations. So, the theory goes, by signaling today an intention of delivering higher inflation rates in the future, the Fed could help stimulate economic activity in the here and now.
If that's your theory, the Fed hasn't been doing too well by that standard either. The gap between the yield on 5-year nominal Treasuries and Treasury Inflation-Protected Securities has decreased rather than increased compared with the levels before the crisis, and has been declining again recently. According to this measure, the market expects less rather than more inflation.
5-year break-even inflation rate, calculated as nominal minus TIPS yield on constant-maturity 5-year bonds. Data source:
FRED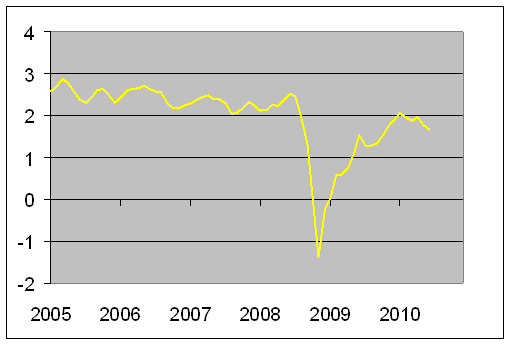 One sees a pretty similar trend in the inflation rate that professional forecasters report they expect for the next five years. If the Fed's goal has been to persuade the public that its inflation target has been raised, its communications performance would have to be judged a failure.
So then, why isn't the Fed making statements that the markets have this all wrong, that the Fed is not going to tolerate deflation, and fully intends to deliver a higher inflation rate over the next 5 years than would have been warranted in the absence of the crisis? For that matter, if the core problem is understood to be the satiation of the demand for reserves, why would the Fed want to be paying any interest at all on those reserves?
My answer to these questions is a variant of the one offered by Arnold Kling— I think this game of managing expectations is a trickier business than it might appear. In an economic model, we might pretend there's some parameter the Fed could adjust essentially continuously, to bump those inflation expectations up just a tiny bit to get us exactly where we want to be. The thing that makes this hard in practice is that there is an essential coordination and inertia issue for the role of expectations. Ultimately, the value of a dollar bill derives from your confidence that everybody else is going to treat it as if it has value. If Fed officials start to say convincingly enough that their plan is to erode that value, what exactly happens when people start to become convinced? Or more concretely, if reserves do cease to be equivalent to T-bills, where does that trillion dollars– which is more than all the cash already in circulation– end up going?
Granted that managing those expectations is tricky, but the Fed needs to try. Here are some options to consider. (1) Agree that the talking point for Fed officials is "deflation is undesirable and the Fed will do everything necessary to prevent it". (2) Try buying some more long-term Treasuries. This perhaps represents the closest thing to that small-epsilon change we like to assume in our models, because, after all, the Fed can buy as much or as little as it likes. Some modest purchases (I'm thinking of a hundred billion), in conjunction with the above talking-point and a statement like "these purchases will continue until the Fed is convinced that deflation is no longer a concern" might help produce the sort of nudge but not panic that policy-makers would want to achieve. (3) Drop the interest paid on reserves to zero (an option briefly discussed by Mark Thoma), and announce the intention to keep it at zero until reserves begin to decline.
If that's the new gas pedal, what is the new stop sign that tells us we've accomplished as much as we can with this policy? My recommendation to the Fed would be to watch commodity prices closely. With its emphasis on "core inflation," this is a signal that the Fed has in recent years largely decided to ignore. But in the current environment, I think commodity prices are the first place we'd see an expansionary monetary policy begin to show up. Of course, big moves in relative prices can be quite distortionary, which is why I am suggesting that rapidly rising commodity prices should be interpreted as an indicator that the Fed has accomplished all it can. It may be, as Arnold Kling opines, that we'd soon discover the practical limits of what expansionary monetary policy can accomplish.
Be that as it may, one thing that expansionary monetary policy surely can accomplish is to prevent deflation. And the Fed needs to be clear in its commitment to do so.