The U.S. economy managed to keep growing in the third quarter, but well below what's needed for a normal economic recovery.
The Bureau of Economic Analysis reported today that U.S. real GDP grew at an annual rate of 2.0% during the third quarter. The latest GDP numbers bring our Econbrowser Recession Indicator Index for 2010:Q2 up to 9.1%. We would not declare that a new recession has begun until it gets back above 67%.
The plotted value for each date is based solely on information as it would have been publicly available and reported as of one quarter after the indicated date, with 2010:Q2 the last date shown on the graph. Shaded regions represent dates of NBER recessions, which were not used in any way in constructing the index, and which were sometimes not reported until two years after the date.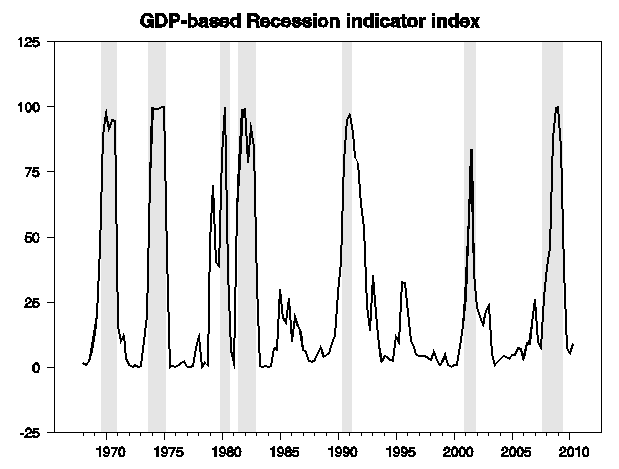 Inventory rebuilding often contributes to above-average growth in the initial phases of a recovery, and continued to do its part in the third quarter as well, with inventory gains contributing 1.4 percentage points to the third-quarter growth. But that means that real final sales were only up an anemic 0.6% (annual rate) for Q3, the kind of number you might expect in a recession rather than the early stage of an economic recovery.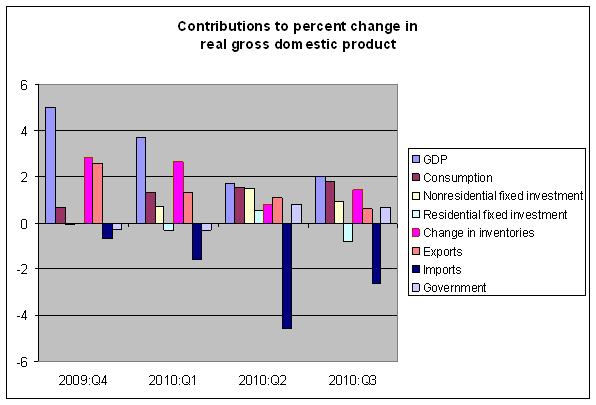 New housing construction, another factor that typically would be contributing to above-average growth at this phase of the cycle, subtracted 0.8 percentage points from the growth total, almost wiping out the decent positive contribution from nonresidential fixed investment. And the respectable gains in consumption and exports were canceled out by an equivalent growth in imports.
We usually expect above-average growth at this point in the cycle, and we need above-average growth to make any progress in bringing the unemployment rate down.
But so far, we're not getting it.