On Friday Reuters reported:
Rising gasoline prices beat down U.S. consumer sentiment in early January, overshadowing an improved job outlook and passage of temporary federal tax breaks, a survey released on Friday showed. A year-end surge in gasoline prices ratcheted up consumer inflation expectations to their highest in more than two years, according to the latest data from Thomson Reuters and the University of Michigan. The surveys' preliminary January reading on the overall consumer sentiment slipped to 72.7, below 74.5 in December. It fell short of a 75.4 reading predicted by economists polled recently by Reuters.
The correlation between consumer sentiment and gasoline prices is reasonably strong. In the graph below, sentiment is plotted in black and the blue line corresponds to the negative of the inflation-adjusted gasoline price, plotted as a negative number in order to emphasize the feature that increases in gasoline prices are usually accompanied by a drop in consumer sentiment.
Consumer sentiment and negative of real gasoline prices, 1978:M1-2011:M1. Black line (scale on left): Reuters/Michigan index of consumer sentiment, from FRED and contemporary news accounts. Blue line (scale on right): negative of the average U.S. retail gasoline price in 2010 dollars per gallon. Gas prices 1978-1989 are U.S. city average retail price of unleaded gasoline from EIA. Data from 1990-2011 are regular gasoline, all formulations, from EIA. Deflated using the 2010:M12 CPI from FRED.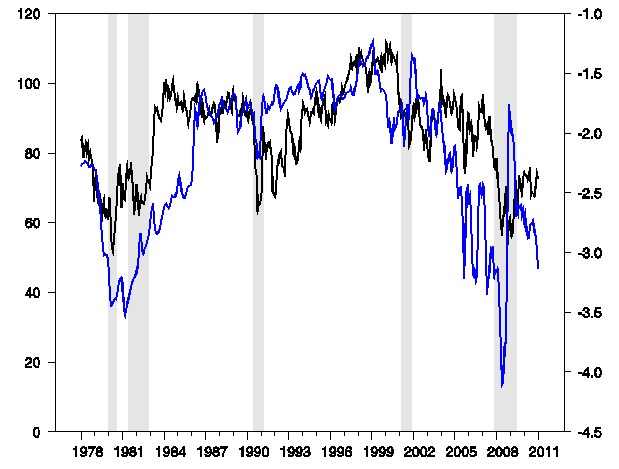 I obtained a quick summary of this relation by regressing consumer sentiment in month t (denoted st) on a constant, sentiment the previous month, and the difference between the average real gasoline price in months t and t-1 and what the price had been in month t-2. That 2-month change in the real gasoline price is denoted xt, and is measured in 2010 cents per gallon. Here are the results of that regression with standard errors in parentheses. A 10 cent per gallon increase in gasoline prices shaves a half point from the consumer sentiment index.

The average real U.S. gasoline price increased from $2.73/gallon in September to $3.08 so far in January. If you dynamically simulate the above equation, you end up predicting a cumulative effect of rising gasoline prices over the last 3 months of a little more than a 2 point drop in consumer sentiment. In other words, if gas prices had not risen, we might have expected to see consumer sentiment about two points higher than it currently is.
All of which is consistent with the assessment I offered last month. Rising oil prices are not enough to derail the recovery, but they are perhaps starting to have some effects.