…lest we forget how much the mindless deregulation and irresponsible fiscal policy induced-crisis [1] [2] [3] and great recession has cost us in terms of lost output, and how difficult the road to recovery remains. (Very important as certain forces seek to gut financial regulation by way of "defunding". [4])
In our forthcoming book [5], Jeffry Frieden and I tried to tabulate the likely costs of lost output associated with the Great Recession that followed the financial crisis driven by financial deregulation, lax fiscal and monetary policy, and ample capital supplies abroad. Using the January 2010 CBO projections, we calculated the cumulative GDP loss (relative to potential GDP) from 2007Q4-2014Q1 at 3.53 trillion Ch.2005$, 11349 per person (Ch.2005$), or about $12604 in current dollars).
Macroeconomic conditions, as well as the projections of potential output, have changed somewhat since I undertook that calculation earlier this year, so I decided to update the calculation. I present the estimated cumulative loss from 2008Q1-2010Q3, as well as the cumulative loss from 2010Q4-2011Q4.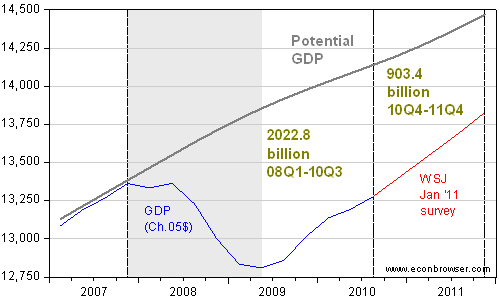 Figure 1:
GDP, in bn Ch.2005$, 2010Q3 3rd release (blue), mean forecasted GDP from WSJ January 2011 survey (red), potential GDP as projected by CBO. Light green figures are cumulative output gap figures for indicated periods. NBER defined recession dates shaded gray. Sources: BEA, GDP 2010Q3 3rd release,
WSJ January 2011 survey
,
CBO, Budget and Economic Outlook: An Update (August 2010) – additional data on potential GDP
, NBER, and author's calculations.
Fears of overheating, when counterbalanced against the costs of lost output, seem somewhat misplaced in this context. [6] Of course, costs depend upon estimates of potential GDP. OECD and IMF output gap estimates would suggest a somewhat smaller cumulative output loss (see here), although for the loss-to-date, the difference would not be particularly large.
One last point: it is inappropriate to take the trajectory of potential GDP as being unrelated to demand conditions, especially for persistent deviations from full employment, such as those we have seen in the last two and a half years. Consider that depressed investment, largely due to deficient and uncertain demand (rather than regulatory uncertainty) [7], will eventually lead to a substantially smaller capital stock. Indeed, the argument that substantial long term unemployment will lead to elevated structural unemployment [8] is inconsistent with the view that potential is unaffected by the size of the output gap. That means that the cumulative output loss relative to a counterfactual where output was higher is probably greater (although the extent is hard to determine).