Here I offer some observations on what's been holding back the recovery.
Two of the most important sectors in U.S. business cycle fluctuations are autos and housing. For example, in the 2007:Q4-2009:Q2 recession, real GDP fell on average at a 2.7% annual rate, with autos and housing accounting for about half of this decline all by themselves.
Contributions to the growth rate of real GDP, 1947:Q2 to 2011:Q3. Top panel: growth rate of real GDP (annual rate). Middle panel: contribution to first panel of motor vehicles and parts. Bottom panel: contribution of residential fixed investment. Shaded areas represent dates of economic recessions as determined by the National Bureau of Economic Research. Data source: BEA Table 1.5.2.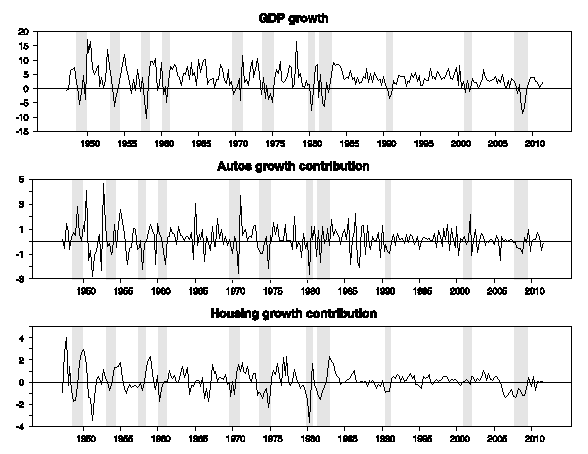 Although autos and housing make a very significant contribution to changes in GDP growth rates over the business cycle, they represent only a small part of the level of total GDP. Over 1947-2011, spending on motor vehicles and parts only amounted to 3.5% of total GDP on average, while housing was less than 4.7%. But the fluctuations in spending on new cars and homes are so volatile, these percentages change quite a bit over the cycle, rising well above average during expansions and falling in contractions. For 2011:Q3, motor vehicles and parts represented 2.4% of the level of GDP, while residential fixed investment was only 2.2%.
Contributions to the level of GDP, 1947:Q1 to 2011:Q3. Top panel: nominal spending on motor vehicles and parts as a percentage of nominal GDP. Bottom panel: residential fixed investment as a percentage of nominal GDP. Blue lines represent historical averages. Data source: BEA Table 1.1.5.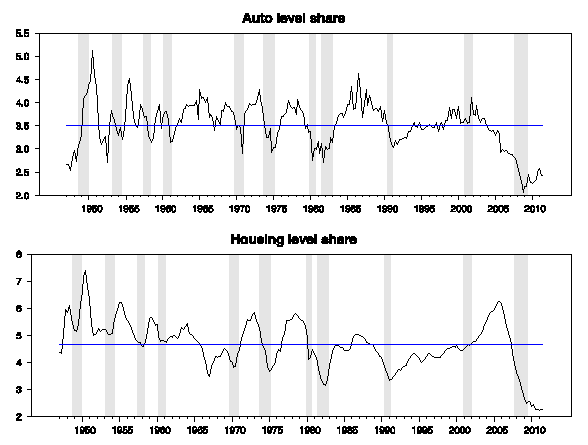 The fact that the levels remain so low today relative to their historical averages means that housing construction and automobile manufacturing have fallen well below what's needed to keep up with growing population. That suggests the potential for a significant positive contribution from these two sectors if the recovery could ever get back on track.
But we're not there yet. New home construction remains stuck at the lowest levels since the series began in 1963. Residential fixed investment contributed 0.03 percentage points to the 1.4% real GDP growth (annual rate) over the first three quarters of the year.
And autos subtracted 0.15 percentage points over that same period, though the October sales numbers released this week suggest a slight improvement. Sales of light vehicles manufactured in North America exhibited very little of the usual seasonal decline from September to October, and were up 11% year over year.
One factor holding back spending has been the debt overhang on which I commented last week. Another factor may have been the higher oil prices that accompanied the disruptions in Libya at the start of the year. Production there was reported by Gulf News to be back up to 370,000 barrels a day in October, though that's still well below the 2 million barrels per day the country had been producing last year.
Continuing high gasoline prices in my opinion have been one factor depressing consumer sentiment.
The most important monthly economic indicator is total employment, which continues to send the same signal– we're seeing some growth, but well below what's needed to make any progress for the millions still without jobs. The Bureau of Labor Statistics reported on Friday that employment at U.S. establishments rose by 80,000 workers on a seasonally adjusted basis in October. A little more encouragingly, BLS revised up the estimates previously reported for September and August, and is now reporting an average gain over the last 3 months of 114,000 jobs per month. Actual good news is suggested by the separate but less reliable household survey, which has civilian employment increasing by 335,000 per month over the last 3 months.
Level of nonfarm payrolls as reported in November (red) and December (blue). Source: ALFRED.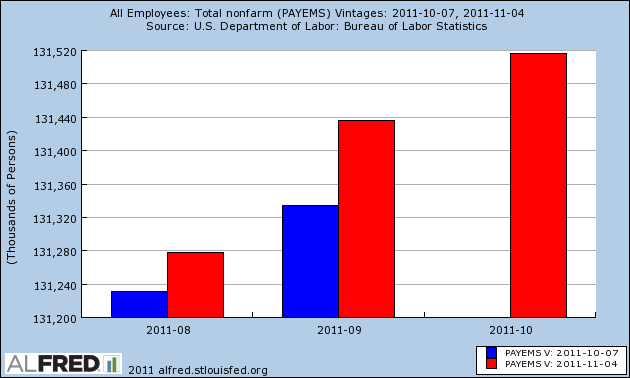 In other words, I think things stand pretty much as they have been– sluggish growth continues. The potential is there to do better, and there are some indications of modest improvement. Meanwhile, across the pond, Europe looks headed for recession. And if events there lead to significant financial instability and disruptions in lending, America is unlikely to emerge unscathed.