In a Guest Contribution today, Loukas Karabarbounis and Brent Neiman (University of Chicago) discuss their recent research on "Declining Labor Shares and the Global Rise of Corporate Savings."
---
The stability of the labor share, the proportion of an economy's total income paid out to workers as compensation for their time, has long stood as one of the principal stylized facts of economic growth. While this regularity may very well hold across centuries or in the long run, our recent work demonstrates the failure of this characterization over the last three decades. In "Declining Labor Shares and the Global Rise of Corporate Savings," (Karabarbounis and Neiman, 2012) we show that labor shares have eroded in most countries around the world, including seven of the eight largest. Globally, corporations paid about 65 percent of their income to labor (as opposed to capital) in 1975, compared with about 60 percent in 2007.1 This trend can be seen in the red dashed line in Figure 1, which plots year fixed effects from a regression of labor shares each year in the eight largest economies that also absorbs country fixed effects.2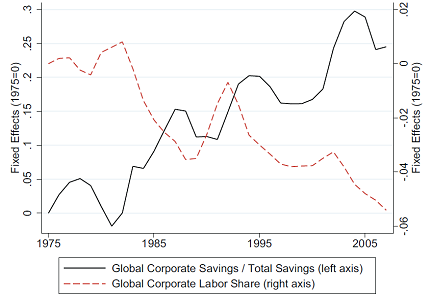 Changes in the labor share have broad implications for inequality and for our understanding of how firms operate. We also demonstrate that the labor share declines were associated with increases in corporate profits and corporate savings, which equal the portion of profits which were not paid out as dividends. Indeed, all eight of the world's largest economies saw an increase in the share of their total savings originating in the corporate sector rather than from households or the government. Corporate savings accounted for a minority of total global savings in 1975 but contributed a majority by 2007. The upward sloping black line in Figure 1 plots year fixed effects from a regression of the share of total savings due to the corporate sector in the eight largest economies after absorbing country fixed effects. The increase of more than 20 percentage points is striking. In essence, thirty years ago global investment was primarily funded by household savings whereas now it is primarily funded by the savings of corporations.
What caused these trends? One might hypothesize that international trade has allowed capital abundant countries like the United States to shift out of labor-intensive sectors. This explanation, however, would counterfactually imply an increase in labor's share in developing countries such as China. Instead, we emphasize that the relative price of investment goods compared to consumption goods declined sharply around the world beginning around 1980, right around the same time the trends began in the data.3 Further, we demonstrate that countries experiencing greater investment price declines also experienced greater reductions in labor shares and greater increases in corporate savings shares. To the extent the decline in investment prices reflect the IT revolution, these empirical relationships suggest that the computer and internet age may be bringing about a shift in labor's role in production.
Our paper studies a model in which firms produce output by combining capital and labor with an elasticity of substitution that exceeds one, and in which capital market imperfections lead firms to prefer financing investment with internal savings rather than external funds such as new equity. In response to a decline in the investment price, firms shift away from labor and toward capital, reducing labor's share. They increase corporate savings as the cheapest means to finance this expansion of the capital stock, increasing the share of corporate savings. In fact, the model also corroborates our story quantitatively. When we use our calibrated model to simulate shocks to the relative investment price that mimic those observed in the data, the model reproduces roughly half of the scale of both trends observed in the data.
Declines in the labor share need not automatically produce increases in corporate savings. For example, an increase in market power leading to higher profit margins and lower corporate investment would likely cause declines in both the labor share and corporate savings. In this sense, studying these two phenomena jointly offers powerful corroboration of the mechanism in our model, compared with many other explanations which could on their own generate one of the two trends. The single shock to the investment price in our model generates both a decline in labor share and an increase in corporate savings. In future work we hope to explore the implications of these global trends for business cycles, inequality, and global imbalances.
References
Bentolilia, S., and G. Saint-Paul (2003): "Explaining Movements in the Labor Share," The B.E. Journal of Macroeconomics, 3(1).
Blanchard, O. (1997): "The Medium Run," Brookings Papers on Economic Activity, 2, 89-158.
Fisher, J.D. (2006): "The Dynamic Effects of Neutral and Investment-Specific Technology Shocks," Journal of Political Economy, 114(3), 413-51.
Harrison, A. (2002): "Has Globalization Eroded Labor's Share? Some Cross-Country Evidence," Working Paper, University of California at Berkeley.
Jones, C. (2003): "Growth, Capital Shares, and a New Perspective on Production Functions," Working Paper, Stanford.
Karabarbounis, L., and B. Neiman (2012): "Declining Labor Shares and the Global Rise of Corporate Savings," NBER Working Paper No. 18154.
Rodriguez, F. and A. Jayadev (2010): "The Declining Labor Share of Income," Human Development Reports Research Paper 2010/36.
1  Earlier work including Blanchard (1997), Jones (2003), Bentolila and Saint-Paul (2003), Harrison (2002), and Rodriguez and Jayadev (2010) also note variability in the labor share over the medium run. Our work is generally consistent with these papers, but differences in focus, data, and methodology discussed in our paper allow us to more broadly conclude that the global labor share has declined.
2  We measure the labor share within the corporate sector and therefore exclude government and unincorporated enterprises.
3  Fisher (2006) documents an acceleration of this decline for the United States in the early 1980s.
---
This post written by Loukas Karabarbounis and Brent Neiman.