For some people this is a tough question; that's because they're using the wrong framework
The GDP revisions boosted the level of output, and more interestingly, raised the measured pace of growth since the end of the recession.
Figure 1 shows the trajectory of real GDP, normalized to 2009Q2, the trough of the last recession.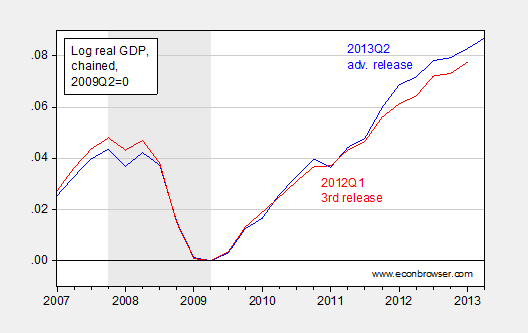 Figure 1:
Log GDP from 2013Q2 advance release (blue), from 2012Q1 3rd release (red), both normalized to 2009Q2=0.
NBER defined recession dates shaded gray. Source: BEA, NBER, author's calculations.
While the measured pace of growth is faster than previously reported, what's true is that output growth is still pretty tepid.
As Jim notes, in a mechanical sense had fiscal drag been less, growth would have been measurably faster.
I think these observations link in with a puzzle often remarked upon — why is inflation so low and declining?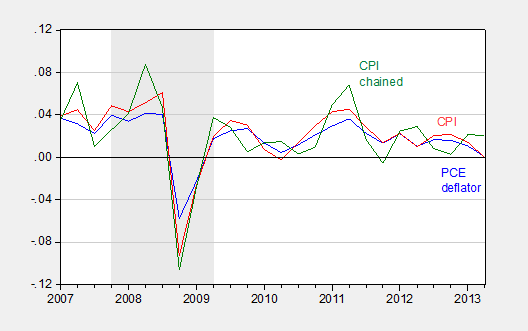 Figure 2:
Quarter on quarter annualized inflation, measured by personal consumption expenditure deflator (blue), CPI (red), and chained CPI (green), measured as log differences.
Quarterly data is averages of monthly data. NBER defined recession dates, shaded gray. Sources: BEA, BLS, NBER, and author's calculations.
I think this is only a puzzle for those who believe that potential GDP has shrunk considerably so that there is little slack in the system.
For the rest of us, it's the large amount of slack that is the answer. In the past I've shown output gap relative to potential as measured by CBO; here I plot in addition potential output implied by an alternative approach, inferred from observed inflation.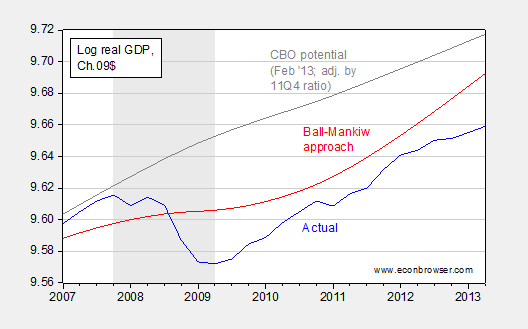 Figure 3:
Log GDP (blue), potential GDP as measured by CBO (gray), potential GDP implied by the Ball-Mankiw procedure (red). NBER defined recession dates shaded gray.
Source: BEA, CBO (February), author's calculations.
The Ball-Mankiw procedure involves inverting a simple expectations-augment Phillips Curve (without supply shocks, but allowing for random shocks), assuming adaptive expectations (consistent with the accelerationist hypothesis).
πt = πet – a(Ut-U*t) + vt

Δ πt = a U*t – a Ut + vt

U*t + vt/a = Ut + Δ πt/a

Notice that NAIRU plus a random error is equal to actual unemployment plus the change in inflation divided by a.
This suggests that NAIRU can be estimated by filtering the object on the right side of the last equation.
I follow the same procedure, replacing NAIRU with potential GDP, and estimating the analogous a parameter over the 1967Q1-2006Q4 period, to obtain the estimates shown in Figure 3.
My estimate of a is 0.08. I use the default smoothing parameter for quarterly data suggested by Hodrick and Prescott.
What is interesting is not the exact path of estimated potential GDP, but rather the fact that the output gap as of 2013Q2 is -3.3% (log terms), and widening (keeping in mind the end-point problems with HP-filtered data).
The gap using the CBO measure is -5.8%. (For other approaches to estimating potential GDP, see [1] [2] [3])
In addition, findings from cross-country studies would have also confirmed that fears of high inflation given the amount of slack were misplaced. That point should be remembered as long as the output gap remains very negative, and unemployment elevated.