The House Republicans' insistence on keeping the government closed means [0] that it is likely that we will be conducting macroeconomic policymaking with increasingly sparse or mismeasured data. If one doesn't believe in expertise and information, then this is not a problem. If one believes that knowledge should inform decisionmaking, it is.
So far, we have missed the employment situation, the international trade, wholesale trade, and import/export prices releases. As of Friday, we will have missed the PPI, retail sales, and business inventories releases. We got this week's petroleum status and natural gas reports, but by Friday EIA will be out of funds. [1] Assuming the shutdown continues through Wednesday (Monday is a holiday), the CPI and Treasury International Capital figures will be missed.
The Longer the Shutdown Goes on, the Blinder We Will Be
It's well known that we don't have a read on the September figures, although the underlying statistics are sitting in computers at the BLS. What is less well known is that surveys regarding the October employment situation begin the week of October 13. If the current trajectory is for sustained closure of the Federal government, then these surveys will be delayed, so as to distort the resulting output. [2]
Now let me pre-empt the arguments that the private sector will spontaneously generate the requisite statistics. Economic information is a public good, and even when private sector generates the data, because the returns cannot be completely captured by the producers, typically there will be underprovision (this is basic microeconomics). And in any case, how do you compare newly generated private series to established (and well documented) government series?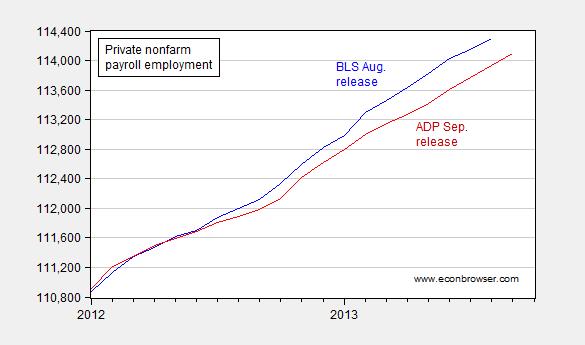 Figure 1:
Private nonfarm payroll employment, from BLS (August release) (blue), and from ADP (red). Source: BLS and ADP via FRED.
Now, it might be that the intent behind the government closure is to hobble information gathering, so that people can make the craziest statements (I can already hear "inflation is soaring – we just don't know it!"). But I remain hopeful that ignorance is not the objective, and that the current data blackout is merely collateral damage.
(h/t to Robin Harding at FT from whom I stole this metaphor.)