Today we are fortunate to have a guest contribution written by Jamus Jerome Lim (World Bank), Sanket Mohapatra (World Bank), and Marc Stocker (World Bank). The findings, interpretations, and conclusions expressed in this article are entirely those of the authors. They do not necessarily represent the views of the World Bank, its Executive Directors, or the countries they represent.
---
In late November 2008, the Federal Reserve announced the first of a series of unconventional monetary policies—quantitative easing (QE)—which, by the beginning of 2014, had swelled its balance sheet to an unprecedented $4 trillion. Although QE was primarily designed to stimulate the U.S. economy, the program was far from innocuous for developing countries; faced with near-zero returns in the U.S. and other high-income countries (many of which were pursuing unconventional monetary policies of their own), financial capital began searching for alternative sources of yield, for which emerging economies were well-poised to offer.
In a background paper written for the thematic chapter of the recently-released Global Economic Prospects, we probe the question of whether QE had an effect on gross financial flows to developing countries. Analyzing gross inflows is particularly important for understanding the effects of QE for three main reasons: first, gross inflows to developing countries have expanded tremendously over the past decade, way beyond growth in net flows; and second, gross flows tend to be especially responsive to changes in global financing conditions, which means that they are especially pertinent for understanding the transmission of monetary policy from high-income countries. Finally, irrespective of their role in the evolution of the current account in developing countries, large private capital inflows, ipso facto, engender far greater implications for the propagation of external shocks, especially through the buildup of large foreign liability positions that have the tendency to amplify the impact of changes in global interest rates and risk premia.
Visual evidence (see figure below) suggests that cumulative gross inflows into the developing world displayed substantial gains during QE episodes, rising from $192 billion in mid-2009 to $598 billion by the first quarter of 2013. But what would a more formal analysis imply?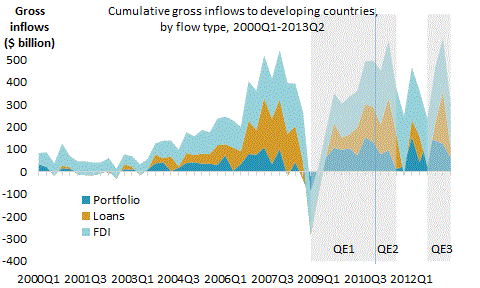 Figure 1: Cumulative gross inflows computed as the sum of quarterly changes in foreign holdings of direct investment, portfolio (BOP), and bank lending (LBS) flows, net of disinvestment. Source: Authors' calculations, from IMF BOP and BIS LBS databases.
Understanding the effects of QE requires us to contend with two, interrelated, questions. First, to what extent can patterns of financial flows be fully explained by the movement of (observable) fundamental factors—such as interest rates and yield spreads—as opposed to transmission channels associated with unconventional monetary policy? Second, since QE would undoubtedly affect these fundamentals as well, to what extent can we dissociate genuine effects from QE from these other primal mechanisms?
Our approach to answering this question is modest. Rather than ascribe a specific, quantitative estimate to the total effect of QE—which would require us to first establish the impact of QE on a range of fundamental variables—our strategy is to begin by accounting for potential QE spillover effects through observable transmission channels identified in the literature—those associated with liquidity, portfolio balancing, and confidence—followed by identifying whether QE episodes saw any additional effects on financial inflows that may be attributable to unobservables.
We find evidence in favor of QE transmission all three potential observable channels (see figure). Our estimates suggest that a one standard deviation change in U.S. short-term interest rates (the liquidity channel) is associated with changes in inflows of around 0.29 standard deviations, while that of changes in the yield curve (the portfolio balance channel) and the VIX (the confidence channel) are around 0.24 and 0.15 standard deviations, respectively. Perhaps more importantly, we also find evidence for a QE effect attributable to unobservables; this effect can account for around 0.26 standard deviation of the increase in inflows.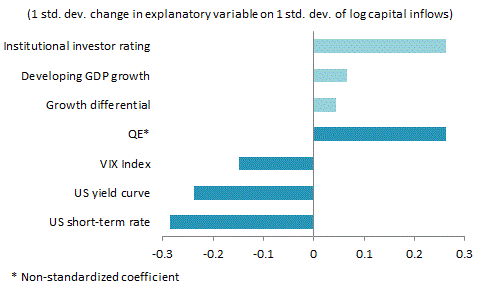 Figure 2: Reported coefficient estimates are selected (statistically-significant) standardized estimates corresponding to one standard deviation change in (log) gross capital inflows for the benchmark specification. Source: Authors' calculations.
In the paper, we go on to probe two candidate explanations that may potentially explain the significance of the QE episode variable.
The first possibility is whether the unmeasured effects are actually implicit measures of expectations. Although difficult to precisely measure, we proxy expectations using market expectations for future fundamentals, which we recover from data on futures and forwards. In particular, we use the "implied" short rate (the yield given by the 3-year futures contract for the 3-month T-bill) together with an "implied" yield curve (which we calculate as the difference between the 3-year implied forward rate for the 10-year Treasury note and 3-year futures of the 3-month bill) (since the VIX already embodies an expectations component, we do not include any further expectational controls for the confidence channel). We then include expectations into our regression in two ways: by taking the simple difference between the implied rates and the contemporaneous rate—so that we are measuring anticipated rate differentials—and by taking the difference between current and lagged yields from futures/forwards (so that we are measuring errors in (market) expectations. Unfortunately, we find no evidence that either expectational measure is able to account for our QE episode variable.
The second possibility is that the QE episode indicator is indirectly capturing structural shifts in the observable factors; that is, the unprecedented nature of QE has led to a change in the elasticity of the response of inflows to the conventional channels. We test this by interacting the observable channel variables with the QE episode indicator: significant interaction effects, then, would suggest that the QE measure is simply a proxy for structural changes along the fundamentals. Again, we find little evidence that this is the case: the coefficients on most of the uninteracted variables, by and large, retain their significance, but the interaction terms are indistinguishable from zero.
Decomposing gross flows into their constituent components offers additional insight into the specific types of flows that may be driving our results. We break inflows into portfolio, loans, and FDI, and (using an alternative gross inflow measure drawn from EPFR Global's mutual fund data) further into equity and bond purchases. What we find is that it is portfolio flows—and in particular bond capital—that are most sensitive to QE. In contrast, FDI—which has traditionally been the most stable component of cross-border financial flows—tends to respond to structural, long-term determinants, such as the institutional rating of the economy. Put another way, our results are consistent with our understanding that portfolio flows react most to the various effects of not just conventional but also unconventional monetary policy (which should be unsurprising; after all, portfolio flows are the most easily reassigned form of financial flow).
What can we learn from our analyses? Our baseline estimates place the lower bound of the effect of QE at around 3 percent of gross financial inflows, for the average developing economy. We are able to rule out the possibility that this QE effect is due to either unmeasured market expectations, or changes in the structural relationship among observable fundamentals. Overall, the effects of unconventional monetary policy, insofar as its impact on gross financial inflows, appears to be measurable and nontrivial. However, to the extent that QE appears to operate primarily via portfolio inflows to the largest emerging markets (rather than FDI), the broader benefits of QE for development finance are more likely to be second-order (relaxing financing constraints for firms able to access bond markets, enhancing liquidity in developing-country financial markets, and promoting overall financial development), and may also be more exposed to the risk of sudden reversals.
---
This post written by Jamus Jerome Lim, Sanket Mohapatra, and Marc Stocker.