Chapters 1 and 2 of the IMF World Economic Outlook were released today.
Lots of useful data regarding the global economy (Chapter 1), as well as regional prospects (Chapter 2).
One interesting graph pertains to estimates of currency misalignments.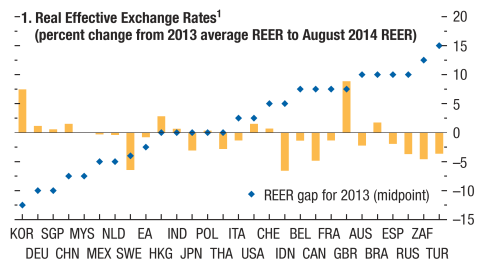 Figure 1.10 IMF WEO October 2014.
See more on the methodology here. The US estimates are of relevance given recent discussion of the dollar's recent strengthening.
See also material on recent housing price trends (in Chapter 1, by Prakash Loungani), and spillover effects of changes in US yields (at the end of Chapter 2).