Today, we're fortunate to have David Papell and Ruxandra Prodan, Professor of Economics and Clinical Assistant Professor of Economics, respectively, at the University of Houston, as Guest Contributors.
---
While the Great Recession of December 2007 to June 2009 ended over five years ago, the recovery has been characterized by very slow growth. The Congressional Budget Office has recently released projections of real (inflation adjusted) GDP growth through 2025. If these projections turn out to be correct, real GDP for the U.S. will never return to its pre-Great Recession growth path. This projected decrease in potential GDP is unprecedented, as almost all postwar U.S. recessions, postwar European recessions, slumps associated with European financial crises, and even the Great Depression of the 1930s were characterized by an eventual return to potential GDP.
Suppose you were an econometrician in 2025 and wanted to analyze the long-run effects of the Great Recession. Figure 1 depicts real GDP from 2003:Q3, when potential GDP was re-attained after real GDP returned to its growth path prior to the 2001 recession, through 2025, with actual data through 2014 and projected data thereafter. Figure 1 also depicts the results from estimating a structural change model that allows for one break in the intercept and constrains the growth rate before the break to equal the growth rate after the break. The break, chosen endogenously, occurs in 2008:Q2. This model cannot be rejected in favor of a model where the growth rises after the break until potential GDP is restored and then returns to its pre-break trend.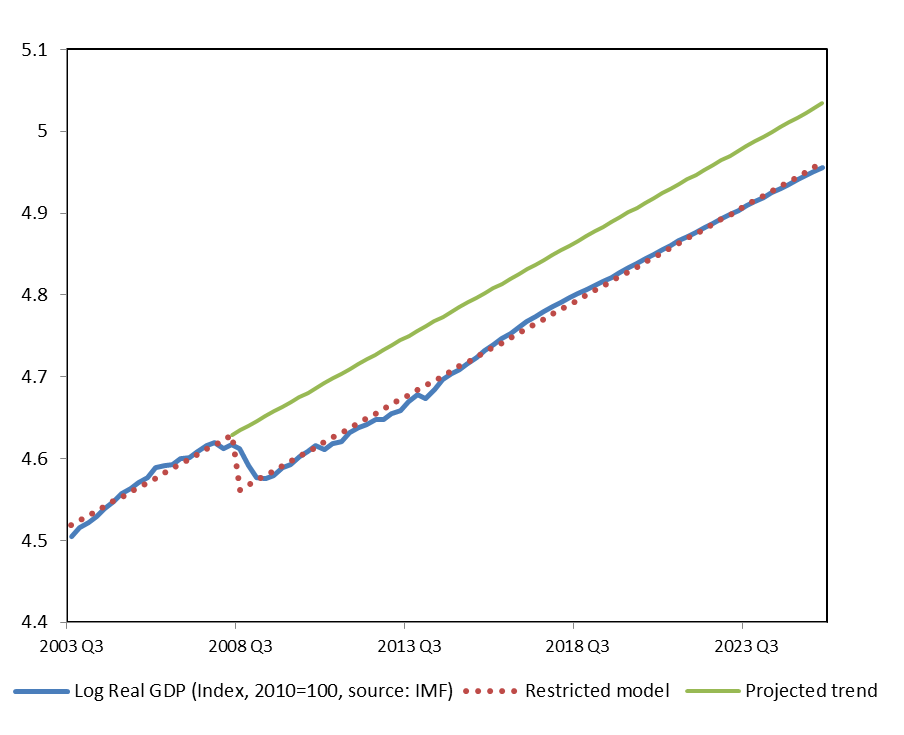 Figure 1: Log real US GDP (2010=100).
In 2011, we presented a paper, "The Statistical Behavior of GDP after Financial Crises and Severe Recessions," at the Federal Reserve Bank of Boston Conference on the "Long-Term Effects of the Great Recession," and summarized the results in an Econbrowser post. The focus of the paper was to show that, while severe recessions associated with financial crises generally did not cause permanent reductions in potential GDP, the return takes much longer than the return following recessions not associated with financial crises. We focused on five slumps, extended periods of slow growth and high unemployment, following financial crises identified by Carmen Reinhart and Ken Rogoff in their book, "This Time is Different," that were of sufficient magnitude and duration to have qualified as comparable to the current Great Slump for the U.S. If the path of real GDP for the U.S. following the Great Recession had been typical of these historical experiences, the Great Slump would have been expected to last about 9 years but would not affect potential GDP. Assuming that the Great Slump started in 2007:4, we predicted that it would not end until 2016:4.
This prediction now appears to be much too optimistic. According to the CBO projections, real GDP will grow by 2.9 percent in 2015 and 2016, 2.5 percent in 2017, and 2.1 percent thereafter. If these projections are correct, potential GDP will never be restored. As shown in Figure 1, while real GDP fell by 4.3 percent from its 2007:Q4 peak to its 2009:Q2 trough, real GDP will permanently be 7.2 percent below the pre-Great Recession growth path because trend real GDP continued to rise during the recession.
In his discussion of our paper at the Boston Fed conference, Jeremy Piger proposed a model of "purely permanent recessions" with a negative intercept break, but no subsequent changes in growth rates. While we were able to reject this model in favor of our chosen models for all five advanced countries that experienced slumps flowing financial crises, future econometricians will not be able to reject his model if the CBO projections turn out to be correct.
Using the same actual and projected data, the CBO expects that the gap between actual and potential GDP to be essentially eliminated by the second half of 2017. Their calculations, however, assume that the growth rate of potential GDP was 1.4 percent per year between 2008 and 2014. In other words, the gap between actual and potential GDP is eliminated, not by faster growth of actual GDP, but by slower growth of potential GDP.
The questions of why growth has been so low since 2009 and what, if anything, can be done to increase growth in the future are both matters of great controversy and beyond the scope of our research. What we can say, however, is that if growth evolves according to the CBO projections, pre-Great Recession potential GDP will never be restored in any meaningful sense. 
---
This post written by David Papell and Ruxandra Prodan.