This is in excess of the consensus of 230K [0] From BLS:
Total nonfarm payroll employment rose by 257,000 in January, and the unemployment rate was little changed at 5.7 percent, the U.S. Bureau of Labor Statistics reported today. Job gains occurred in retail trade, construction, health care, financial activities, and manufacturing.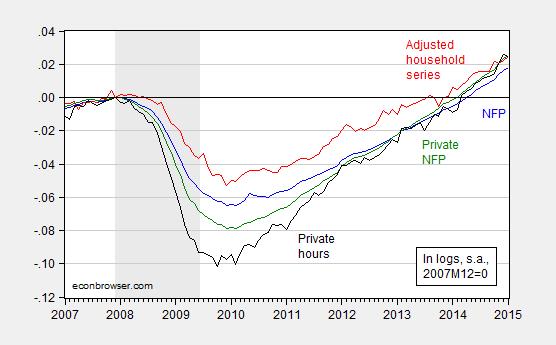 Figure 1: Log nonfarm payroll employment (blue), household employment series adjusted to NFP concept (red), private nonfarm payroll employment (green), average weekly hours index (black), normalized to 2007M12=0. NBER defined recession dates shaded gray. Source: BLS, NBER, and author's calculations.
Additional discussion from Furman/CEA. For those concerned about the impact of the decline in the labor force participation rate, the post includes an assessment of the demographic and cyclical components of the decline.