From Bloomberg, a quote from the Governor's speech in Detroit:
… I don't think the U.S. should settle for anything less than 4 percent growth a year–which is about twice our current average.
I applaud the Governor's aspirations. Here is a plot of what real GDP would have looked like had we had 4% annual growth (log terms) since 1967Q1 (in red), and if we'd had it under the administration of G.W. Bush (green).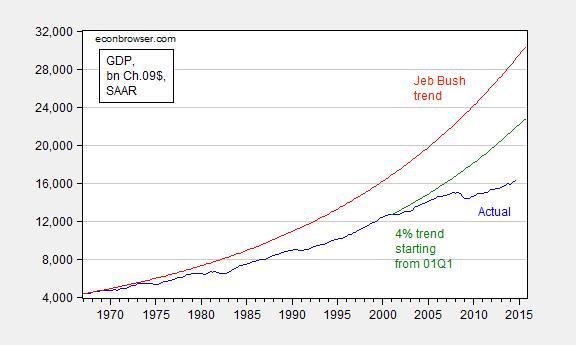 Figure 1: Real GDP, in bn. Ch.2009$, SAAR (blue) and under 4% growth starting from actual level in 1967Q1 (red), and starting from actual level in 2001Q1 (beginning of G.W. Bush administration) (green). Growth rates calculated as log differences. Source: BEA 2014Q4 advance release, and author's calculations.
Well, if 500,000/month job creation is the norm (as Governor Mitt Romney asserted), why wouldn't 4% growth be the norm? Just because it hasn't happened yet, doesn't mean it can't.
Update, 2/10 6:15pm Pacific: Noah Smith has more on the "4% solution".