The stock market continued to decline today, despite vigorous efforts by the authorities. That being said, perspective is required.
The NYT has some good coverage on ongoing stock market developments [1] [2], and why they have occurred.[3] Figure 1 places the current bust in context: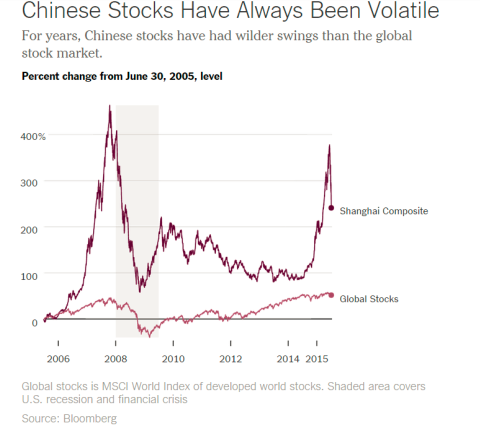 Source: The Upshot/NYT.
Briefly put, there are few alternatives for saving in China. The formal banking system provides negative returns (low deposit yields, lower than inflation typically). Housing is no longer returning positive capital gains — partly as a consequence of deliberate policy actions to moderate a perceived housing bubble. So, what's left (given you can't easily save in overseas assets)? Equities. We have a typical boom-bust phenomenon, amplified by underdeveloped financial markets, opacity in valuations, and uncertainty regarding the government's intentions (and will-power).
But (as befits a macroeconomist), I still think the big picture is the trajectory of the real economy. And here, I think it's just a matter of how "cool" it becomes. For those who want to see a whole plethora of indicators, go to World Economics' China Growth Tracker page for July. Quick plots of other data is here at TradingEconomics. People can do their own version of the Rorschak test…
For links to more in-depth analyses of the economic outlook (from the World Bank), and the need for further financial reform, see this post. For discussion of longer term reform needs, see here.