From today's updated World Economic Outlook update:
Risks to the global outlook remain tilted to the downside and relate to ongoing adjustments in the global economy: a generalized slowdown in emerging market economies, China's rebalancing, lower commodity prices, and the gradual exit from extraordinarily accommodative monetary conditions in the United States. If these key challenges are not successfully managed, global growth could be derailed.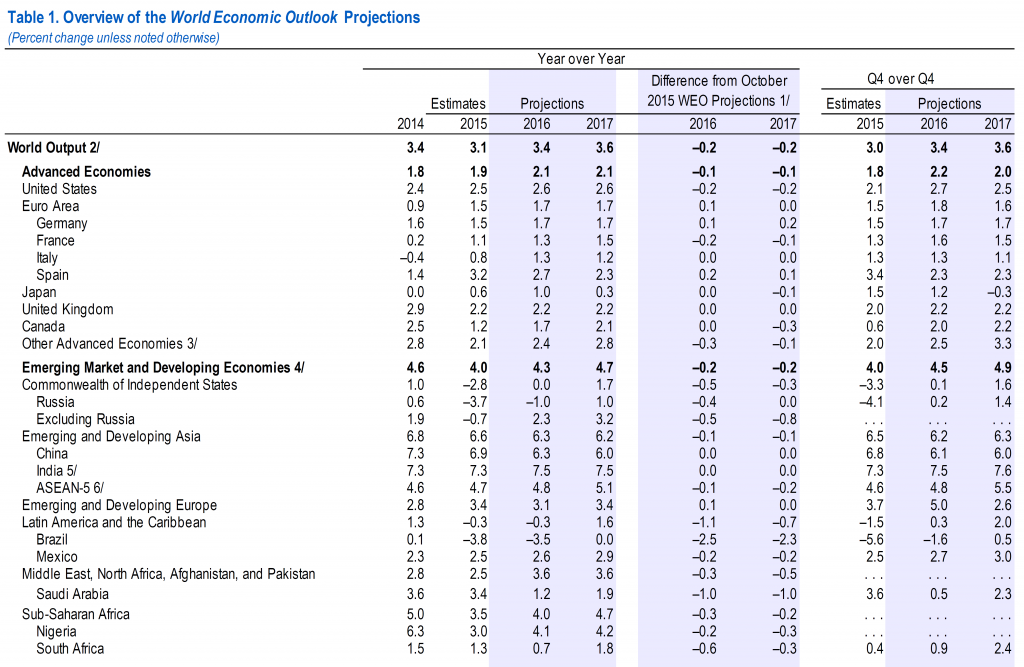 Excerpt from Table 1, IMF World Economic Outlook Update, January 2016.
Note the deceleration in emerging markets. Commodity prices have also been marked down, relative to the last WEO (not shown above). I appreciate Chief Economist Maury Obstfeld's characterization in his blogpost:
We may be in for a bumpy ride this year, especially in the emerging and developing world.
In his outline for action, he notes three areas:
Need for action
In advanced economies, currently projected growth rates are too low rapidly to reduce high unemployment and other legacies of recent crises, or to spark strong growth in real wages. In emerging and developing economies, currently projected growth rates substantially slow convergence to higher incomes. Action is needed. Policy recommendations must be country-specific, but at a general level there are three priorities.

First, to support aggregate demand in the face of subdued activity and, in some countries, continuing deflationary pressures.

Second, to support economic efficiency and long-term economic growth in the face of evidence that potential growth rates have fallen worldwide over the past decade. An important element here is structural reform, which will be a main theme of the April 2016 World Economic Outlook.

A final need is to further strengthen and widen the international safety net, bolstering global resilience to whatever may lie ahead.