The Wisconsin Budget Project concludes "Costly Tax Credit has Done Little to Boost [manufacturing] Employment".

From the study:
The Manufacturing and Agriculture Credit, which lawmakers passed in 2011, nearly wipes out income taxes for manufacturers and agricultural producers — at a very steep price.

…

Tax filers with incomes of $1 million and higher, who made up just 0.2% of filers, receive an estimated 78% of the 2016 tax cut that is distributed through the individual income tax.
Not only does the tax credit benefit primarily high income individuals, it has been pretty ineffective at boosting employment. The Wisconsin Budget Project does essentially a diffs-in-diffs test.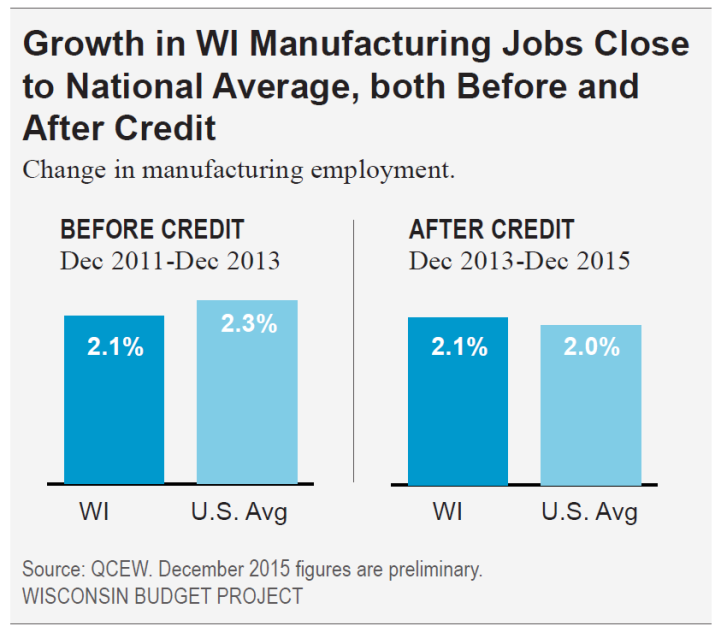 Source: Tamarine Cornelius, "The Big Giveaway Costly Tax Credit has Done Little to Boost Employment," Wisconsin Budget Project, June 28, 2016. Note: Uses QCEW data through December 2015.
In other words, despite the generous terms of the tax credit, Wisconsin employment does not seem to have exhibited any different behavior from the national counterpart. (A similar conclusion holds for manufacturing vs. nonmanufacturing.)
A time series approach can yield additional insights. I check whether the relationship between national and Wisconsin manufacturing employment from 1990M04-2013M12 predicts well the 2014-16 evolution of manufacturing employment, using an error correction model.
(1) Δn_mfgWIt = –0.001 – 0.013n_mfgWIt-1 + 0.009 yUSt-1 + 0.759Δn_mfgUSt + 0.250Δn_mfgUSt-1 -0.015 Δn_mfgWIt-1 + 0.083 Δn_mfgWIt-2 + ut
Adj-R2 = 0.66, SER = 0.0026, N =285, DW = 2.03, Breusch-Godfrey Serial Correlation LM Test = 1.26 [p-value = 0.28]. Bold face denotes statistical significance at 10% msl, using HAC robust standard errors. n_mfg denotes log manufacturing employment.
The model fits the data fairly well, and implies a long run elasticity of Wisconsin manufacturing employment to national of about 0.67.
Using this model, I dynamically simulate out-of-sample using actually realized values of national manufacturing employment (i.e., I conduct an ex post simulation). The results are illustrated in Figure 1.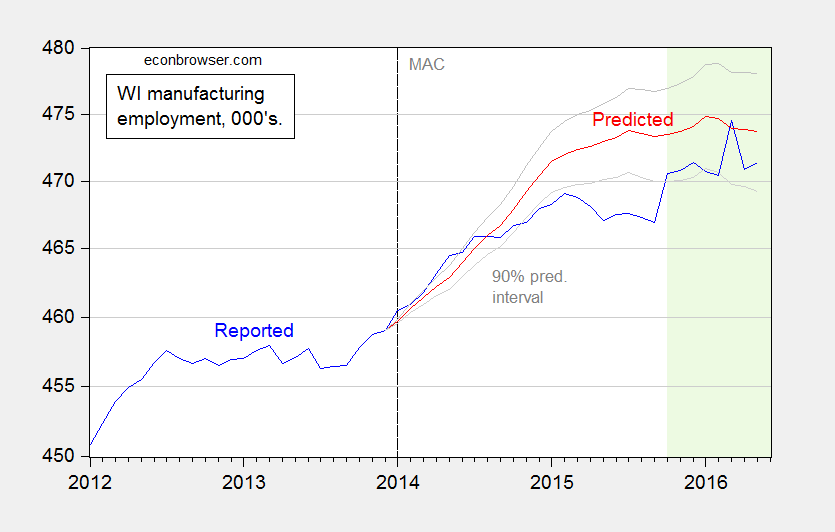 Figure 1: Reported manufacturing employment in Wisconsin (blue), predicted from model (1) (red), and 90% prediction interval (gray lines). Dashed line at implementation of the Manufacturing and Agriculture Credit (MAC); Light green shading indicates CES employment data that has not yet been benchmarked. Source: BLS and author's calculations.
For a large portion of the time when the tax credit is increasingly in effect (it was phased in gradually), Wisconsin manufacturing employment was below what is predicted (and statistically significantly so). It's of interest to note that when Wisconsin employment rises to within the 90% prediction interval, it is data that has not been benchmarked to incorporated the most recent Quarterly Census of Employment and Wages (QCEW) data. These data are likely to be measurably revised at the next benchmark date.
Regardless, employment in Wisconsin does not seem to have responded in the manner predicted by the proponents of the tax credit.
Update, 7/10 7:15am Pacific: Here is WMC's "critique" of the Wisconsin Budget Project report.