Dark warnings were voiced in the wake of the passage of the minimum wage ordinance. "Seattle's Minimum-Wage Hike Is Sure to End in Disaster". "Seattle sees fallout from $15 minimum wage" In an early — and widely debunked — assessment, Mark J. Perry writes "New evidence suggests that Seattle's 'radical experiment' might be a model for the rest of the nation not to follow".
I think it a good idea to first place into context the "$15 minimum wage". It's being phased in over time, and does not apply equally to all firms. Figure 1 depicts the Seattle minimum wage, over a long time span, differentiating the Schedule 1 rate (for firms over 500 employees) from Schedule 2 (less than 500).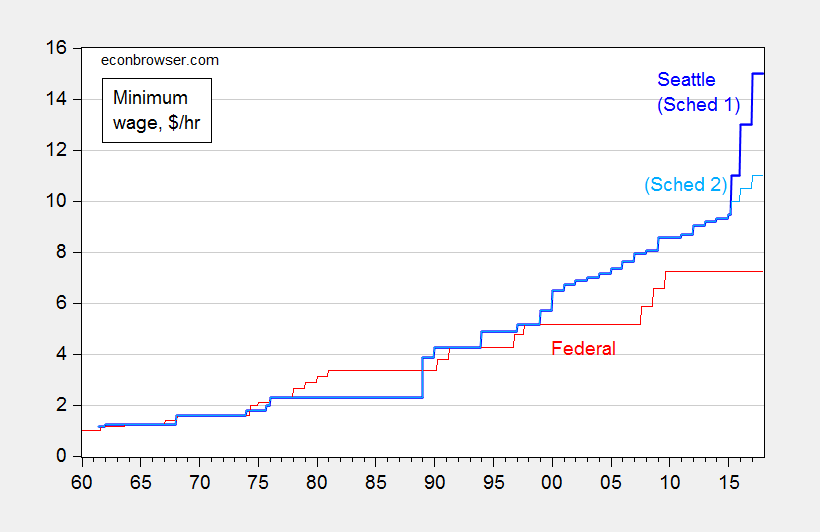 Figure 1: Minimum wage per hour in Seattle (blue), and for Schedule 1 (dark blue) and for Schedule 2 (light blue), and Federal (red). Source: BLS, and City of Seattle.
There does seem to be an alarmingly steep ascent in the minimum wage, particularly when focusing on the rate for large firms. Of course, these are nominal rates. Real rates paint a somewhat different picture.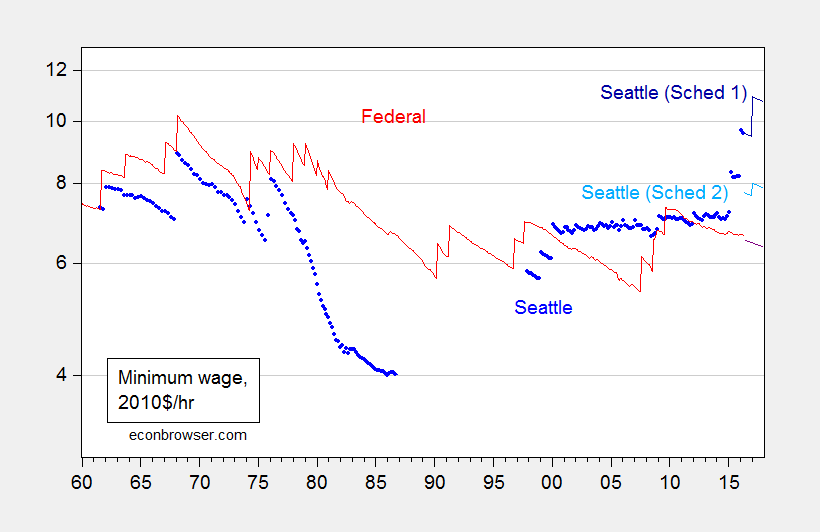 Figure 2: Real minimum wage per hour in Seattle (blue), and for Schedule 1 (dark blue) and for Schedule 2 (light blue), and actual Federal (red), and projected Federal (dark red), on log scale. Deflated using CPI-all for US, and n.s.a. CPI for Seattle; assumes projected inflation trends at the 2009M06-2016M05 rate, and no changes in the Federal minimum wage; assumes price level in Seattle is 21.3% higher than national in 2010. Source: BLS, and City of Seattle, BLS via FRED, City of Seattle, Forbes, and author's calculations.
Note that once on adjusts for inflation, the Seattle real minimum wage is only slightly higher than that recorded in the late 1960's. Further, when adjusting — admittedly in a crude fashion — for the higher cost of living in Seattle, the Schedule 2 (small firms, with less than 500 employees) minimum wage is not particularly high, in a national context.
What does the academic work say about the effects of the Seattle minimum wage? One paper by Heather Hill, Jennifer J. Otten, Emma van Inwegen, and Jacob Vigdor, entitled "Early Evidence on the Impact of Seattle's Minimum Wage Ordinance" is summarized:
This paper provides an overview of Seattle's 2014 ordinance mandating a gradual increase to a $15 minimum wage. It then outlines a research agenda for a comprehensive evaluation of the effects of this ordinance, to be executed concurrently with the phase-in period. The evaluation is using original data on area prices, and on employer and worker perspectives, as well as secondary survey and state administrative data. This paper presents results from a series of investigations of consumer prices, including intensive field collection from grocery stores and small businesses. Most investigations use difference-in-difference methodology comparing trends in Seattle to those in nearby jurisdictions. Results show no statistically significant impact of Seattle's initial increase to an $11 minimum wage on consumer prices, though estimates are imprecise enough to be consistent with the small positive effects observed in other studies and suggestive of a more concentrated impact in the restaurant industry.
So, no Armageddon yet.