Long time readers of Econbrowser know that I have tabulating US direct outlays in Operation Iraqi Freedom, and operations thereafter. Imagine my surprise when in The Commander in Chief Forum, Donald J. Trump stated that we'd spent three trillion dollars. This prompted me to refer to actual, real-world, data. As far as I can tell, three trillion is not a number that exists in reality.
Here's the quote from WaPo:
TRUMP: …look at Iraq, what happened, how badly that was handled. And then when President Obama took over, likewise, it was a disaster. …
… we're the only ones, we go in, we spend $3 trillion, we lose thousands and thousands of lives, and then, Matt, what happens is, we get nothing. You know, it used to be to the victor belong the spoils. Now, there was no victor there, believe me. There was no victor. But I always said: Take the oil.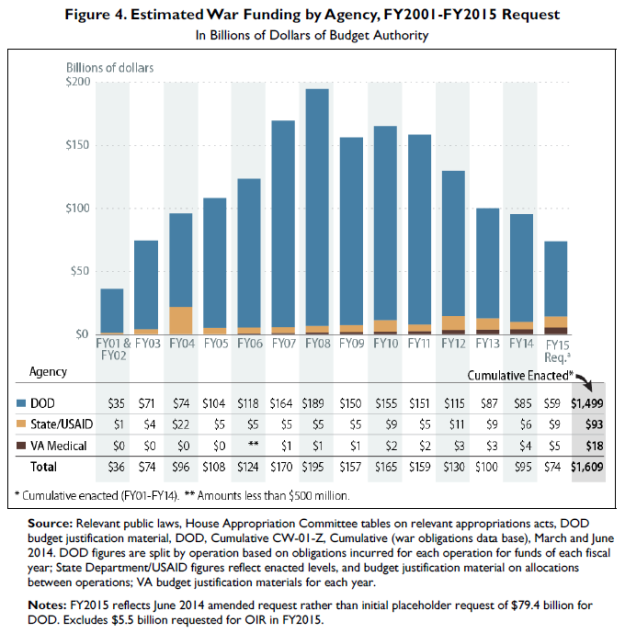 Source: Amy Belasco, "The Cost of Iraq, Afghanistan, and Other Global War on Terror Operations Since 9/11," Congressional Research Service Report (December 2014).
The cumulative spending is tabulated at $1.6 trillion. It is possible that there are some expenditures Mr. Trump has in mind as belonging in the total that are omitted from the above tabulation, but it is hard to think that those expenditures sum to $1.4 trillion.
For pictures of cumulative real expenditures through FY2012, see this post.