From Wells Fargo Economics Group today, data relevant to Donald J. Trump's comments regarding Congressman John Lewis's district:

Growth Finally Kicked Into Higher Gear in 2016
Atlanta finally got its mojo back in 2016, as hiring ramped up and residential and commercial construction gained momentum. The 29-county Atlanta metropolitan area has finally put most of the remnants of this past decade's housing slump behind it and is now taking full advantage of its significant competitive strengths. Atlanta serves as the hub of the rapidly growing Southeast economy, which drives growth in logistics, professional services and the leisure & hospitality sectors. The region is home to a sizeable tech sector, with outsized exposure to payment systems, data analytics, healthcare management software and internet security. Health care and life sciences are also important and rapidly growing sectors. In addition, Atlanta is home to a large and growing entertainment industry, including motion pictures, television and music.

This past year saw growth improve in nearly every key industry…
Here's one picture of population growth in Atlanta (where Atlanta constitutes only a portion of the Georgia Fifth Congressional District).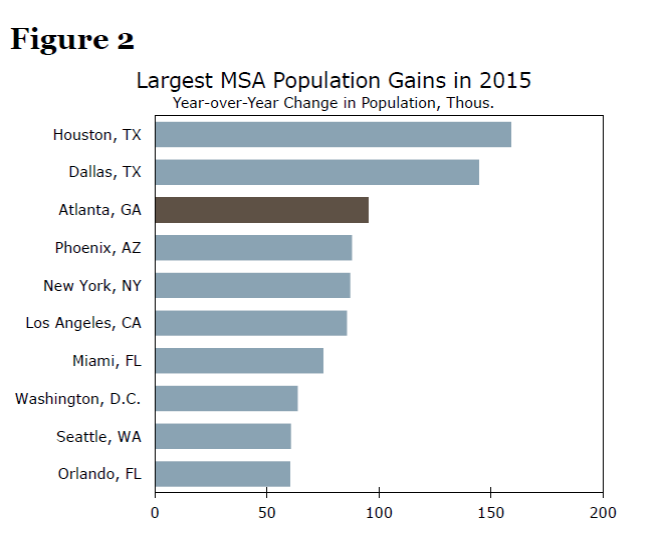 Source: Wells Fargo Economics Group.
I believe we should be looking at the 5th district in its entirety, but some commenters (e.g., anon2) on the previous post seem to want to focus on Atlanta specifically, so these data seem particularly germane.
More text and graphcis in the report.