The Bureau of Economic Analysis announced today that U.S. real GDP grew at a 0.7% annual rate in the first quarter, weak even by the post-recession average annual growth rate of 2.1% and far below the U.S. historical average of 3.1%.

Nonetheless, this is consistent with another pattern we've seen in the recent data– the first-quarter numbers are often unusually weak. Since 2010, first-quarter real GDP growth averaged 1% at an annual rate, compared with 2.4% for the other three quarters. We get a smoother impression using year-over-year growth, which for 2017:Q1 came to 1.9%, close to the recent average.
The new data caused only a slight bump up to 8.4% in our Econbrowser Recession Indicator Index. The index uses today's release to form a picture of where the economy stood as of the end of 2016:Q4.
But a look at the individual components of GDP suggests that more is going on than the usual seasonal sluggishness. Consumption growth was very weak, and inventories were a significant drag. The latter component is particularly volatile and subject to revision.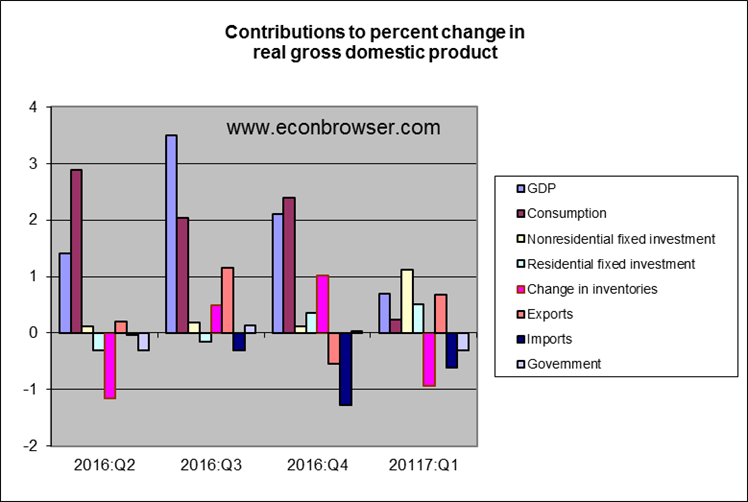 Residential fixed investment finally made the kind of positive contribution I'd been expecting. But an even bigger boost came from nonresidential fixed investment. One factor here is that oil-related investment is making a comeback with the price of oil back in the neighborhood of $50.
Overall, this is consistent with the impression that while soft data such as sentiment surveys suggested that U.S. growth might be accelerating, support from hard data just doesn't seem to be there so far. Even so, I do not see a reason to be overly alarmed by the first-quarter report.