Gavin Davies in the FT has an interesting article about how survey/sentiment based information and hard data have diverged. Here is a picture of US GDP, from the official BEA series (3rd release), Macroeconomic Advisers, and e-forecasting, as well as the Atlanta Fed nowcast.


Figure 1: GDP from BEA (blue bars), Atlanta Fed nowcast of 31 March (blue bars/orange dashed box), Macroeconomic Adviser (red line), e-forecasting (green line), on log scale. Source: BEA 2016Q4 3rd release, Atlanta Fed via FRED (3/31), Macroeconomic Advisers, e-forecasting.
There is a distinct flattening out — although it's important to recognize the Atlanta Fed nowcast at 0.9% growth SAAR is considerably below, for instance, the 2.72% from the St. Louis Fed. Macroeconomic Advisers forecasts 1.0% for 2017Q1.
On the other hand, the indicators that the NBER Business Cycle Dating Committee looks at suggest continued growth (although all these variables are subject to revision, so I won't "pull an Ed Lazear" and say "no recession").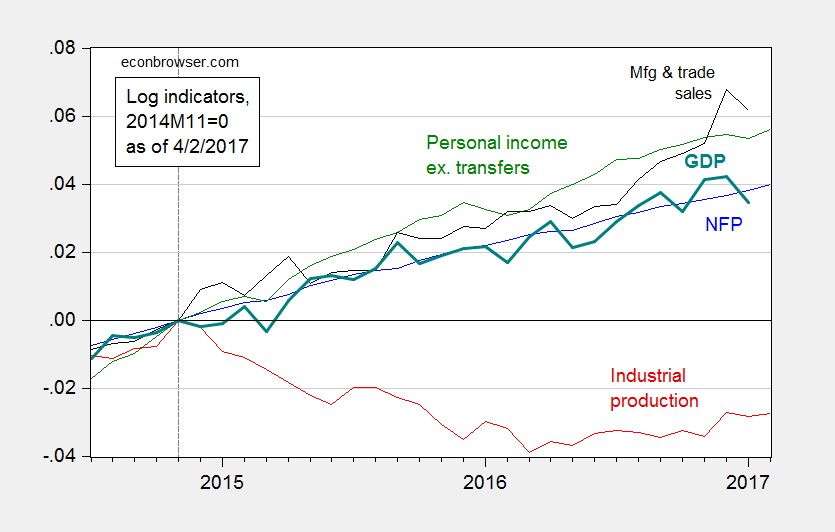 Figure 2: Log nonfarm payroll employment (blue), industrial production (red), personal income excluding transfers, in Ch.2009$ (green), manufacturing and trade sales, in Ch.2009$ (black), and Macroeconomic Advisers monthly GDP series (bold teal), all normalized to 2014M11=0, all as of April 2nd. Source: BLS (March release), Federal Reserve (February release), Macroeconomic Advisers (March 16), and author's calculations.