That's the title of my article at EconoFact today.
The Issue:

The Trump Administration has proposed a number of trade related measures purportedly on the basis of national security. The first involves invoking a seldom-used provision of the trade law to investigate whether imposing import restrictions for steel and aluminum is justified by national security reasons. The second is the creation of a new White House office, the Office of Trade and Manufacturing Policy, superseding and replacing the National Trade Council established at the outset of the Trump Administration.

The question is whether the threats posed to national security are genuine, or merely a means of protecting domestic industries under the guise of national security.
Here is a graph of steel import sources, from the post.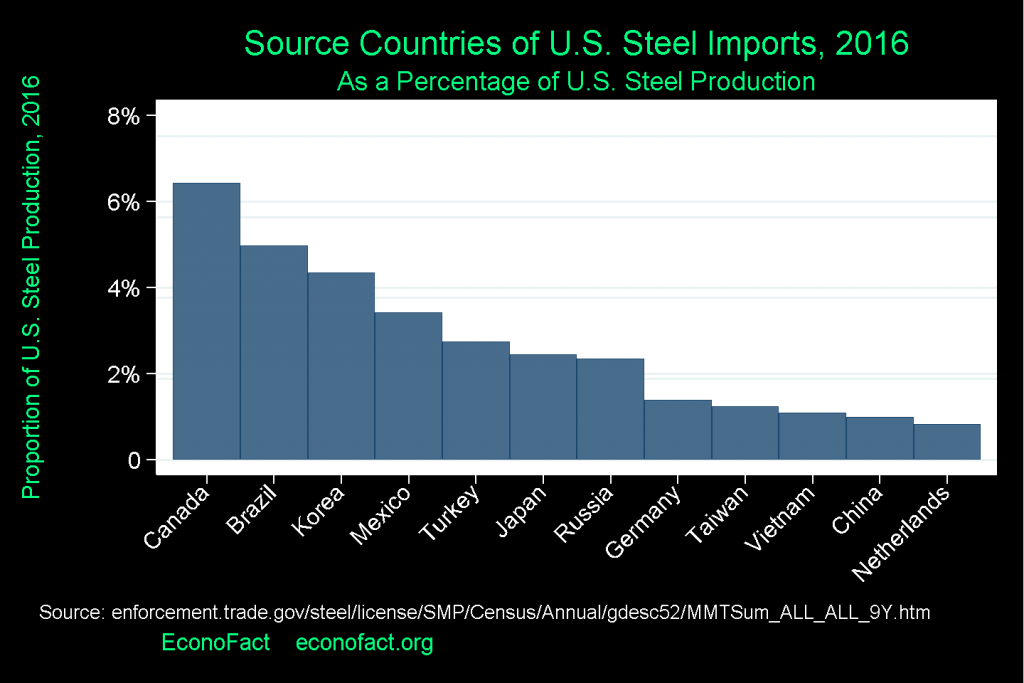 Update, 5PM Pacific:
Steel and aluminum prices have risen in recent months, partly as a consequence of other trade measures (countervailing duties, anti-dumping duties).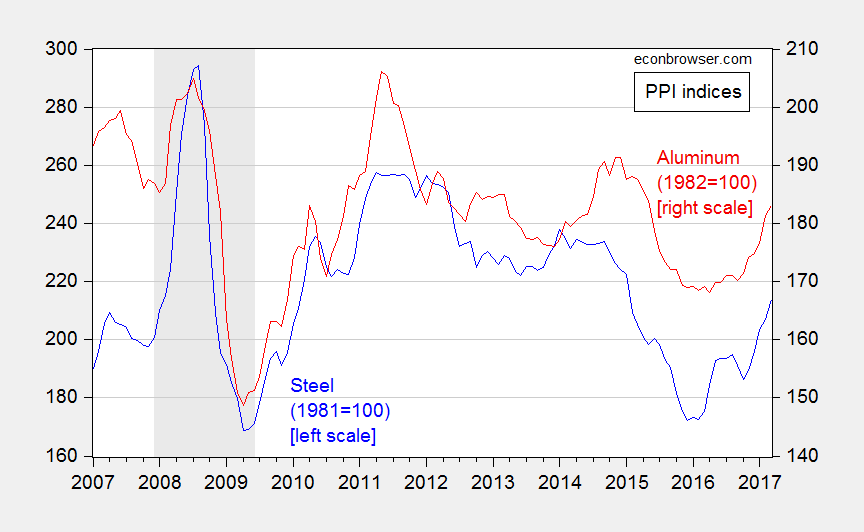 Figure 1: PPI for steel and iron, 1981=100 (blue, left scale), and for aluminum, 1982=100 (red, right scale), both not seasonally adjusted. Source: BLS via FRED.
Production is down for both categories, although steel is recovering.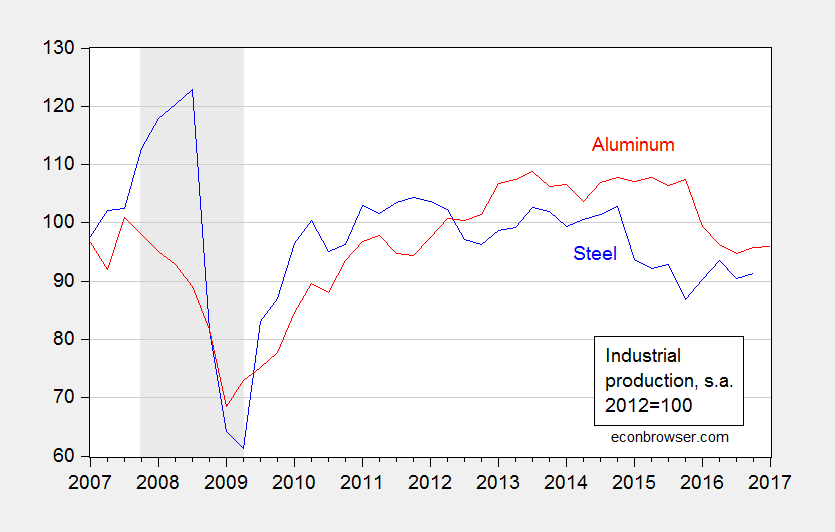 Figure 2: Industrial production for raw steel (blue), and for alumina and aluminum production and processing (red), both 2012=100, seasonally adjusted. Source: Federal Reserve Board via FRED.
The entire post is here.
Update, 2:15PM Pacific:
From Peter Navarro, The Policy Game (Wiley, 1984), p.82, some germane arguments.
National Security Benefits and Costs. On the benefit side, protectionism within certain basic industries like autos, steel, and electronics helps to create and sustain and industrial base that, in times of war or national peril, can be shifted to defense purposes. However, this national security argument–and the existence of any benefits resulting from protecting these industries–can legitimately be called into question for several reasons.

First, the existence of any sizable benefits rests on the assumptions that import competition in our defense-related industries would not only reduce the size of these industries but also shrink them to the point where they would be too small to support our defense needs…

Second, it is highly possible that our defense capability might actually be enhanced–not damaged-by import competition. Without the umbrella of protectionism, our defense-related industries would be forced to operate at lowest cost, engage in more research and development, aggressively innovate to stay one step ahead of the competition, and modernize their plants at a faster pace. …

On the national security cost side, the major effect of protectionism is to threaten the stability of the international economic order through a global trade war. …