Since January of 2017, Republicans have controlled both houses of Iowa legislature and the governorship. This month, the legislature passed tax cut legislation sharing elements of the Kansas tax cuts. Are we seeing another Kansas disaster in the making?
Iowa GDP has decelerated in the past year. So too has BEA Plains region. But Iowa GDP has both decelerated more than Plains ex-Iowa, it's decelerated more relative to pre-2017 trend.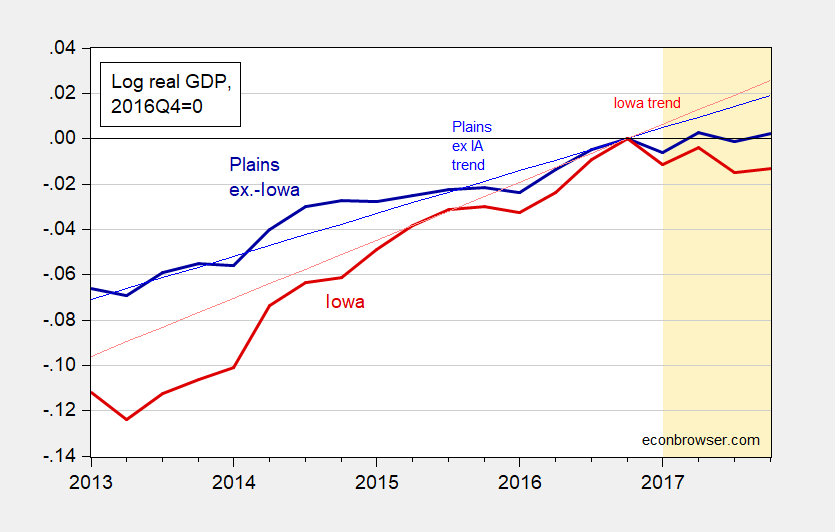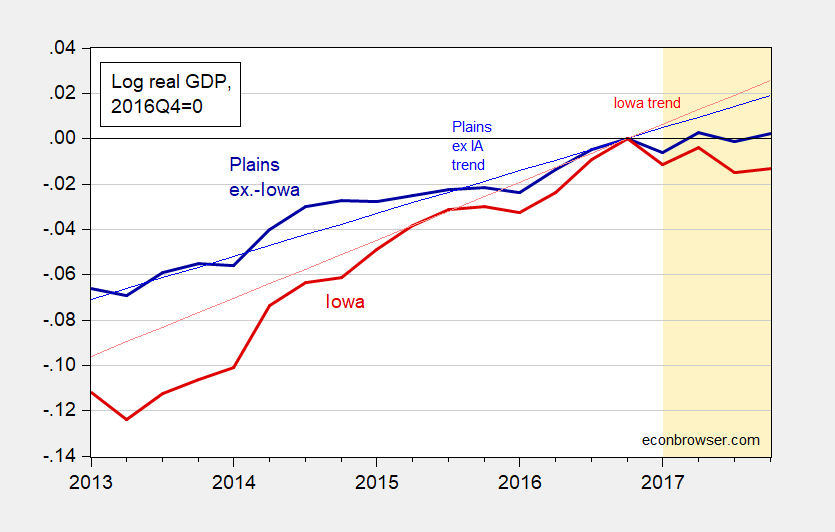 Figure 1: Log Iowa GDP (red), and BEA Plains region ex.-Iowa (blue), both 2016Q4=0. 2009Q2-2016Q4 log linear trend for Plains ex.-Iowa (light blue), and Iowa (light red), both normalized to 2016Q4=0. Orange shading denotes unified Republican control of Iowa state government. Source: BEA and author's calculations.
Rather depressingly, Iowa GDP is down 1.3% (log terms) over the course of the last year, through 2017Q4, while the rest of the Plains is essentially flat. (The US in contrast rose 2.55% over the same period). However, since there are no two consecutive quarters of negative growth, Iowa's performance does not meet the rule-of-thumb criterion for a recession.
The tax cuts amount to $2.2 billion worth of reduction, contingent on tax revenues rising sufficiently. Aside from triggers to prevent revenue collapses, the legislation emulates certain aspects of the Kansas program, including reduced tax rates on income and pass-through business entities [1] (the latter a large part of the Kansas debacle). We will see if the tax cut "shot of adrenaline" has the same effect as it did in Kansas.
Update, 5:45PM Pacific 5/30: Ed Hanson claims I am manipulating the data depiction to put in a poor light the last year's performance. So, without further ado, I present the longest span of data for Iowa real GDP I can obtain, and allow the reader to assess whether I have manipulated the data as Mr. Hanson asserts.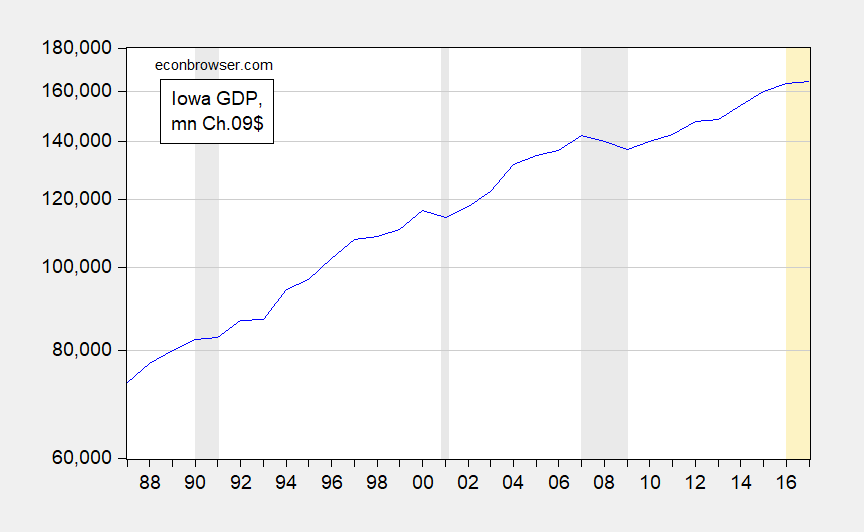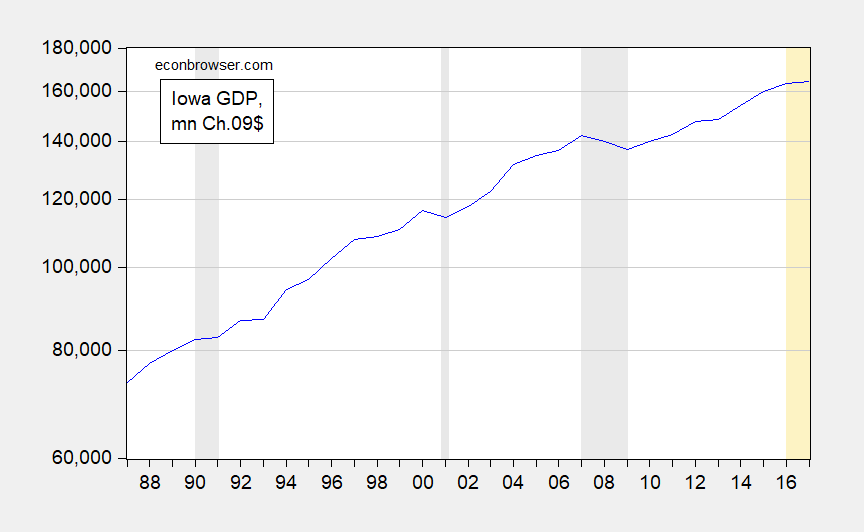 Figure 2: Real Iowa GDP in millions of Ch.2009$, with pre-NAICS data spliced to NAICS data using the 1997 ratio, on a log scale. NBER defined recession dates shaded gray. 2016-2017 shaded orange. Source: BEA, NBER, and author's calculations.
Yes, Iowa GDP does flatten out on occassion, but it's only done that in the absence of a nationwide recession twice over the past 30 years.