Given some criticisms of the Harvard School of Public Health led study, published in the New England Journal of Medicine, I thought it useful to compare point estimates and 95% confidence intervals of several extant studies, placed in a time context.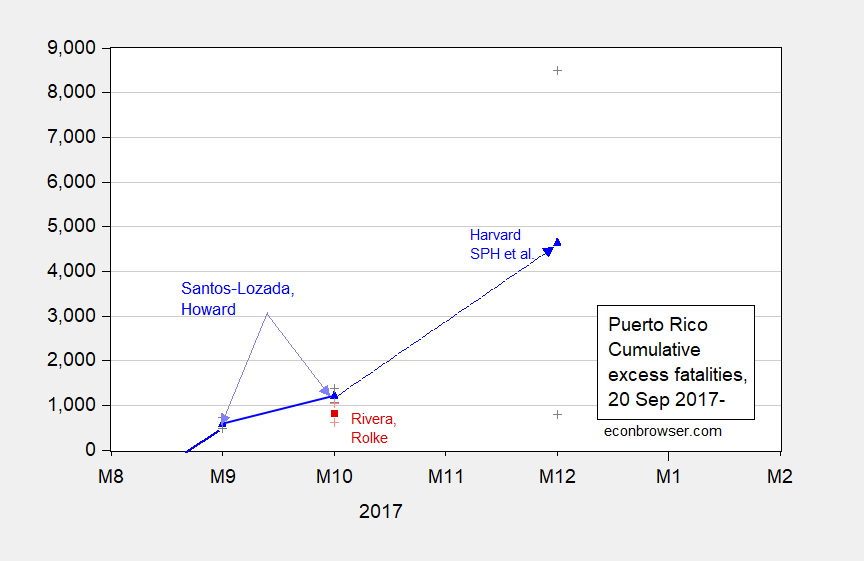 Figure 1: Estimates from Santos-Lozada and Jeffrey Howard (Nov. 2017) for September and October, and Nashant Kishore et al. (May 2018) for December 2017 (blue triangles), and Roberto Rivera and Wolfgang Rolke (Feb. 2018) (red square), end-of-month figures, all on log scale. + indicate upper and lower bounds for 95% confidence intervals. Cumulative figure for October author's calculations based on reported monthly figures.
The growth rate of cumulative excess fatalities is in the range of 70% per month.
Steven Kopits has characterized the study published in the New England Journal of Medicine as "garbage", noting that it uses survey data. He has instead relied on Demographic Registry Data in his assessment. He places cumulative excess deaths at 200-400. Interestingly, Rivera and Rolke (2018) also used Demographic Registry Data and concluded that 822 excess deaths occurred from September 20 through October 31 alone, with 95% CI (605, 1039). Extrapolating linearly through end-December (time span conforming to the NEJM article) would imply 2603 excess deaths, well within the 95% confidence interval of 793-8498.
It should be also remarked upon that the Santos-Lozada and Howard study uses actual statistics for baseline from Puerto Rico Vital Statistics System, and cited numbers processed through Puerto Rico Department of Health for September (extrapolated for October). Hence, this estimate is also not survey based.
Hence, we have two sets of non-survey based estimates that as of October exceed Mr. Kopits' upper bound of 400.