Some observers claimed the fungibility of soybeans would mean little impact on US soybean prices. Unless the Bloomberg terminals are being hacked by the Russians…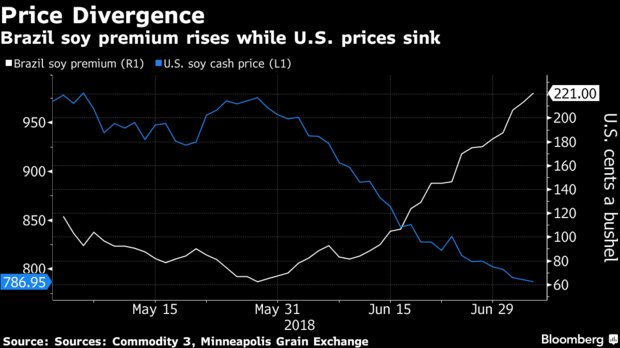 Source: Freitas, Durisin, Bloomberg.
From the article:
Soybean prices in the U.S. and Brazil, the nations that account for roughly 80 percent of global exports, have taken drastically different paths thanks to Donald Trump's trade war.

In the U.S., average cash prices fell to about $7.79 a bushel this week, the lowest in almost a decade, according to an index compiled by the Minneapolis Grain Exchange. China's tariffs on American goods including farm products have now taken effect after the U.S. implemented a raft of duties earlier in the day Friday and President Trump threatened more action.

Meanwhile in Brazil, exporters have been handed high times. Soybeans to be loaded in August at the nation's Paranagua port fetched $2.21 a bushel more than Chicago futures as of Friday, the widest gap since data starts in 2014. The premium has more than tripled since the end of May, according to data from Commodity 3.
Two arguments were forwarded as to why prices would not be affected. The first is that US soybeans would be relabeled as non-US, i.e., smuggled. The second is that US beans would be redirected to non-China destinations, and beans that previously went to non-China destinations would go to China.
The first argument relies upon a large capacity to funnel beans through places that do not track. That seems to be an empirical question.
The second argument relies upon the US being a higher cost producer than the alternative (e.g., Brazil). This argument is formally addressed in a paper cited in this post.
It seems to be the case for now that the observers that said Chinese tariffs would not matter substantively to US soybean prices were wrong.