On reading my admonition to consult my paper with Oli Coibion, reader Ed Hanson writes:
Do you really have a problem explaining to those who can not follow your paper? I hope you do not teach undergraduate beginning economic courses. Unless. of course, your intention is to decrease economic understanding in the world. But then again, I suspect that exactly what you want, because only the economic illiterate and the power elite could support socialism.
Confessions:



I do teach undergraduates.

My teaching evaluations have always been above mean.

My intent is not to decrease economic understanding.

I am not intent upon supporting socialism. I have never been, nor am I now a member of the Communist Party.

Observation:


The term The Power Elite is closely associated (if not effectively coined) by C. Wright Mills who observed the close interconnections between military, corporate and political elements. Mr. Hanson's deployment of the term is ironic, to say the least.

So, here for the Ed Hanson's of the world is a simplified summary of the paper's implications for interpreting the outlook for soybeans (geez, I never thought I'd write so much about soybeans, and writing at such a basic level), in light of this graph.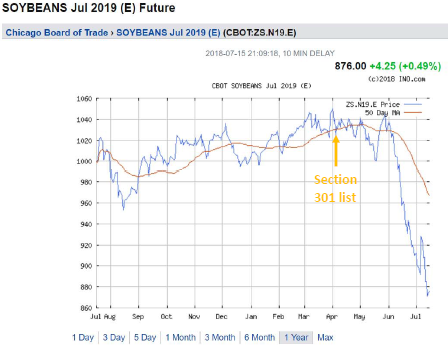 Figure 1: Soybean futures for July 2019. Source: ino.com, accessed 7/15/2018.


The statistical relationship between the basis and actual changes in the price is close to one-for-one (unbiasedness).

The futures today for a trade k periods hence is the best guess of the spot rate k periods hence (minimum variability of forecast errors).

Given these historical correlations, the drop in prices for futures can be interpreted as expected drops in prices for future spot prices.

Hence, the best guess on average of what the price in July 2019 is the futures price as of today for a July 2019 delivery.

These conclusions do not necessarily apply to other commodities, such as metals.