Finally, Ironman at Political Calculations understands what an externality is. Instead of this:
If a deadweight loss exists, it represents the amount of economic activity that has been directly lost because of the imposition of the tax, which tells us the degree to which the city's economy may have shrunk as a result.
…many claim that such a [soda] tax would fix what in economics is called a "negative externality", which in this case, represents higher costs to public health systems for treating conditions such as obesity and diabetes, where sweetened beverages are targeted by soda tax advocates for their contributions to the problems they proclaim because of their popularity and their sugary calorie content.
I am thankful for small blessings.
Regarding the Philadelphia soda tax, Ironman concludes:
We've already run the numbers for the increased calories of alcohol-based beverages sold within the city, whose sales surged during 2017, which totaled the equivalent of an additional 114 12-ounce containers of beer consumed by each Philadelphian over the year. Assuming 149 calories per container per person, the average Philadelphian consumed an additional 16,986 calories during 2017. With 3,500 calories corresponding to the gain or loss of a pound of body weight, that increased alcohol consumption would, when spread over every man, woman and child in the city, put an average of 4.9 pounds back onto the bodies of every Philadelphian!
Now, I can't say this estimate is wrong. But it is counterintuitive. So when one encounters a counterintuitive result, it behooves a researcher to investigate further the likelihood of such an outcome. Unfortunately, as is wont with Ironman's assessments, there are no confidence intervals, p-values, etc. (To paraphrase Elaine in Seinfeld, "standard errors, what're they good for?") Fortunately, we have another study using a diffs-in-diffs methodology. From "The Impact of the Philadelphia Beverage Tax on Purchases and Consumption by Adults and Children," by John Cawley, David Frisvold, Anna Hill, David Jones (NBER Working Paper No. 25052):
… we find that the estimates of the impact of the tax on the consumption of added sugars from SSBs and the frequency of consuming all taxed beverages are negative but not statistically significant for children and adults. Additionally, the point estimates are modest in size. For children, the estimate for added sugars is a decrease of 2.4 grams per day, which is a decrease of 12.5 percent. A gram of added sugars is 4 calories, so this estimate implies a decrease of only 9.6 calories per day or roughly 0.6 percent of the daily recommended caloric intake. For adults, the estimate of a decrease of 5.9 grams of added sugars per day translates to a reduction of 23.6 calories per day or roughly 1.2 percent of the recommended 2,000 calories per day; this estimate is not statistically significant once we control for demographic and socioeconomic characteristics. To illustrate the magnitude of the point estimate, Hall et al. (2011) estimate that a sustained reduction in consumption of 10 calories per day leads to an eventual weight loss of 1 pound, with roughly half of the weight loss occurring after one year. Thus, the estimated reduction of 23.6 calories per day by adults implies a long-term reduction of slightly more than 2 pounds. The estimates for changes in the frequency of consumption for all types of beverages are modest in size and not statistically significant for children. The point estimate for regular soda is -0.2 or less than 1 percent.

On the other hand, we find that, due to the tax, adults in Philadelphia consumed regular soda 10.4 fewer times per month, which is a reduction of approximately 30 percent. Put another way, adults in Philadelphia consumed approximately one regular soda per day before the tax, and the tax reduced consumption by roughly one soda every three days. The tax reduced adults' probability of consuming regular soda daily by 11.1 percentage points or approximately 31 percent.
Here is Figure 2 from the paper, depicting the impact for high consumption youth.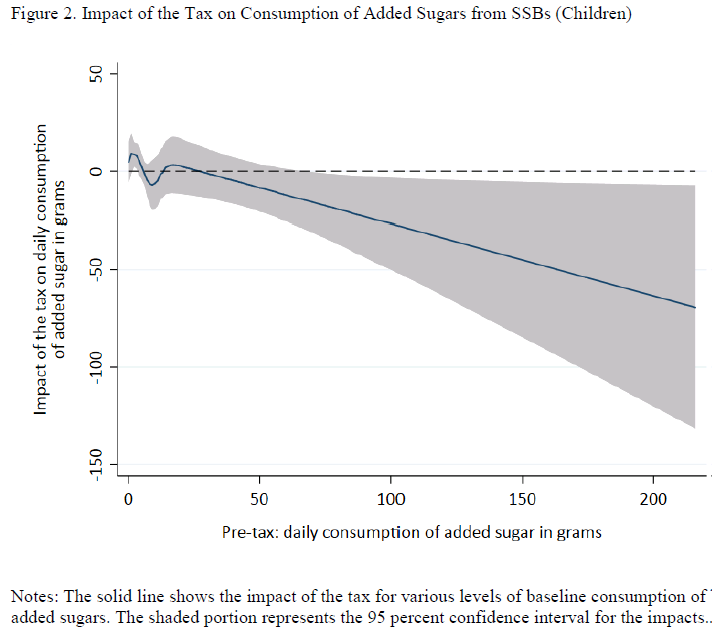 A similar conclusion regarding decreased soda consumption was obtained by Zhong et al. (2018).