Suppose you wanted to detect anomalies in nonfarm payroll employment (NFP). Would you want to apply a filter that relied on trend stationarity of NFP (like reader CoRev does in his "anomaly analysis")? My short answer is "no"…
First, consider what a series of (deterministic) trend estimates looks like, over 20 year spans, 1947-2019.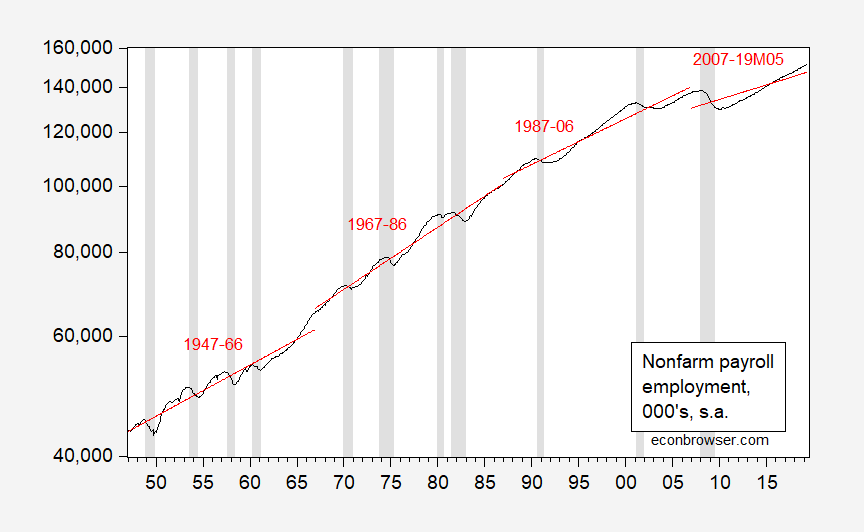 Figure 1: Nonfarm payroll employment, 000's, s.a. (black), and linear deterministic trends estimated over 20 year subsamples. NBER defined recession dates shaded gray. Source: BLS, May employment situation release, NBER, and author's calculations.
If the series were trend stationary, then one would expect the fitted trend lines to not vary overmuch. But they do… (for more on the trend stationary/difference stationary distinction and cointegration, see "Beware of econometricians bearing estimates," JPAM (1991).)
A more formal approach (from Cheung-Chinn (1996, 1997): Apply a test (or tests) that has a unit root null hypothesis. Also apply a test that has a trend stationary null hypothesis.
ADF (constant, trend, lags=4) t-stat: -1.566963, p-value: 0.8053 ==> do not reject unit root null
Elliott-Rothenberg-Stock point optimal (constant, trend, lags=4) P-statistic: 15.2896  (10% c.v. is 6.89) ==> do not reject unit root null
KPSS (constant, trend, bandwidth=23, Bartlett kernel) LM test statistics: 0.726442 (1% c.v. is 0.11900) ==> reject trend null
To sum up: ADF and ERS fail to reject unit root null. KPSS rejects trend stationary null. Hence, I think (log) NFP is better characterized as difference stationary then trend stationary. I'm willing to allow that one could characterize NFP with a structural break (using a Perron test, I find a possible break in 1961M02, and yet fail to reject unit root null — hence I think this is necessarily a given).