Net impact on employment from Trump's trade war and associated retaliation: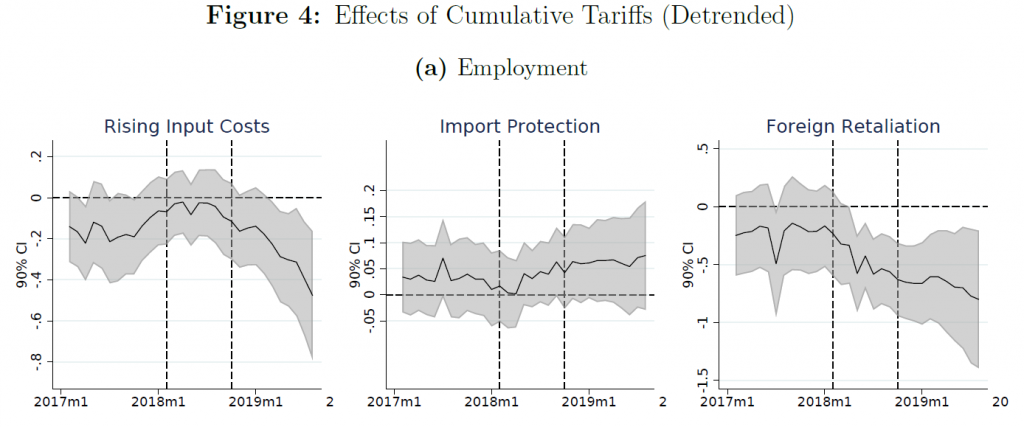 Source: Flaaen and Pierce, 2019.
From Flaaen and Pierce:
Since the beginning of 2018, the United States has undertaken unprecedented tariff increases, with one goal of these actions being to boost the manufacturing sector. In this paper, we estimate the effect of the tariffs—including retaliatory tariffs by U.S. trading partners—on manufacturing employment, output, and producer prices. A key feature of our analysis is accounting for the multiple ways that tariffs might affect the manufacturing sector, including providing protection for domestic industries, raising costs for imported inputs, and harming competitiveness in overseas markets due to retaliatory tariffs. We find that U.S. manufacturing industries more exposed to tariff increases experience relative reductions in employment as a positive effect from import protection is offset by larger negative effects from rising input costs and retaliatory tariffs. Higher tariffs are also associated with relative increases in producer prices via rising input costs.
How about what countries are gaining as a consequence of US tariffs? From Nicita (2019):
Since mid-2018 the United States of America and China have been locked in a trade confrontation which has resulted in several rounds of retaliatory tariffs. This paper investigates the impact the United States tariffs on China on United States imports. This paper finds that United States tariffs against China have resulted in a reduction in imports of
the tariffed products by more than 25 percent. The analysis finds that China's export losses in the United States have resulted in trade diversion effects to the advantage of Taiwan Province of China, Mexico, the European Union and Viet Nam among others. The analysis also finds that those effects have increased over time. The analysis finds some preliminary evidence that Chinese exporters may have started to bear part of the costs of the tariffs in the form of lower export prices. Overall, the results indicate that the United States tariffs on China are economically hurting both countries. United States losses are largely related to the higher  prices for consumers, while China's losses are related to significant export losses.
Lot's more out there. One thing to remember: As Chad Bown says, "Phase One China Deal: Steep Tariffs Are the New Normal".