It was surprising to me to see a Wisconsin farmer singing the praises of Mr. Trump's policies. From WPR:
Another Wisconsin speaker in Tuesday's event, Cris Peterson, is a dairy farmer from Grantsburg and a member of the University of Wisconsin's Board of Regents. She praised Trump's trade policy and said her farm and others have seen conditions improve after a period of sustained low milk prices that drove hundreds out of business.
Why am I skeptical? From Feedstuffs:
The Midwest, Northwest and Southeast were hardest hit, representing 80% of the filings across the U.S. More than 50% of the Chapter 12 filings were in the 13-state Midwest region, coming in at nearly 300 filings, a 23% increase. Wisconsin led the nation with 69 filings, followed by 38 in Nebraska. Georgia and Minnesota each had 36 filings.
Graphically: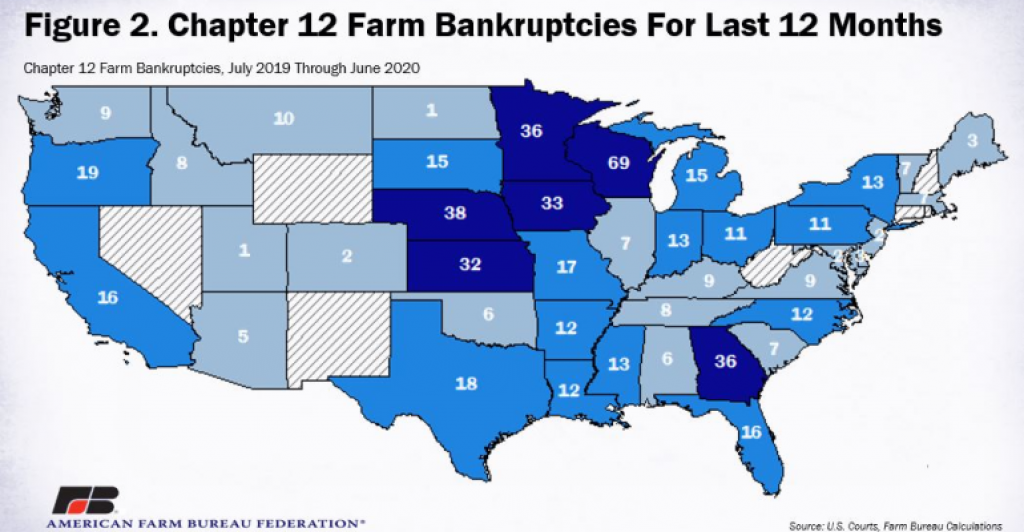 Maybe the Petersen's benefitted from the government's largesse. AgWeb notes that 2020's record farm sector income jump:
Part of the hike may be because of government payments, which USDA says are at a record.

The forecast of $37.2 billion for 2020 is a $14.7 billion increase in government payments. The full Coronavirus Food Assistance Program (CFAP) amount of $16 billion and nearly $6 billion in the Paycheck Protection Program (PPP) loans are included as well.