From Deutsche Bank on Sunday:
In the US, fiscal uncertainty is a major issue. As outlined above, we now assume that significant further support will not be forthcoming until after the election. The resulting drop in income support for households is already beginning to depress activity and we see GDP growth slowing to near zero in Q4 as consumer spending slides. Growth will pick up in Q1 with some post-election fiscal support.
This manifests in zero (0) growth in 2020Q4.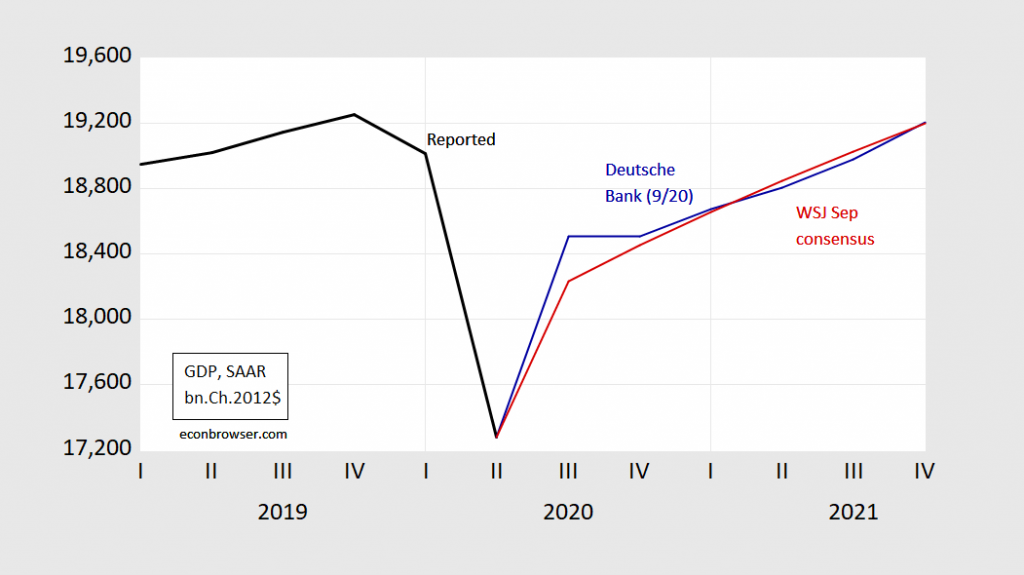 Figure 1: GDP (black), Deutsche Bank (blue), WSJ September consensus (red), all in billion Ch.2012$, SAAR. Source: BEA 2020Q2 2nd release, DB World Outlook Update (Sep 20, 2020), WSJ September survey, author's calculations.
Today, Bloomberg notes:
After four rounds of U.S. aid totaling nearly $3 trillion, fiscal stimulus is running out: Bloomberg Economics' analysis shows that under a no-stimulus baseline scenario through year-end, total income flowing to households will transition from unprecedentedly strong for a recession, to just so-so. That in itself would be enough to subtract 5 percentage points from fourth-quarter gross domestic product compared with a counterfactual scenario that includes an extension of stimulus measures. Funding problems for states and small businesses are poised to add to the drag.
This point is illustrated in the figure depicting personal income around recessions: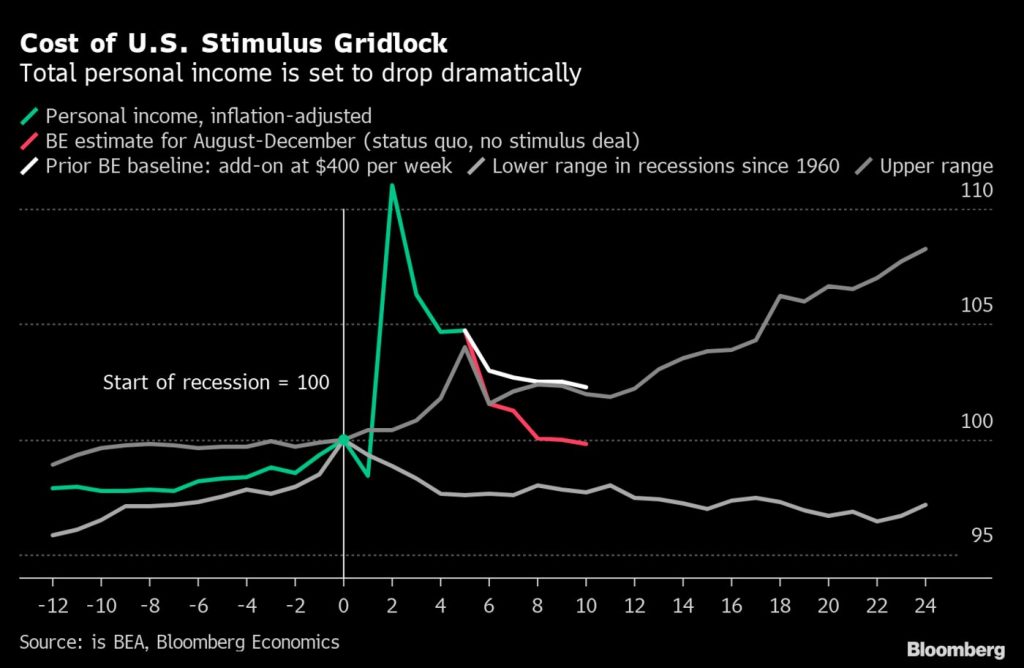 What do academic economists think? From the latest round of the IGM/FiveThirtyEight Covid-19 panel:
The results also bring into focus how the economists are viewing the election results and  overall political climate. We've written many times that they believe an infusion of additional money from Congress — whether in the form of enhanced federal unemployment insurance or another series of stimulus payments — is paramount to stabilize the economy through the recovery. According to our survey results, the biggest economic risk for 2021 is the possibility that no additional stimulus is passed by November 2020. And the economists see Democrats' control of Congress as having a significant effect on growth potential in 2021, likely because they have been much more willing to pass government spending bills. (Note that even if Joe Biden wins the presidency but the Senate doesn't flip to the Democrats, 94 percent of our panelists said their outlook for 2021 would remain essentially the same as it is now.)

"I think that failing to pass fiscal stimulus is the biggest downside risk," said Jonathan Wright, an economist at Johns Hopkins University who has been consulting with FiveThirtyEight on the survey. "And that's probably made more likely by the RBG fight."
In other words, no additional fiscal stimulus now is a recipe for flatlining in Q4.