This graph is for those who believe reports of negative outcomes Wisconsin are "fake news".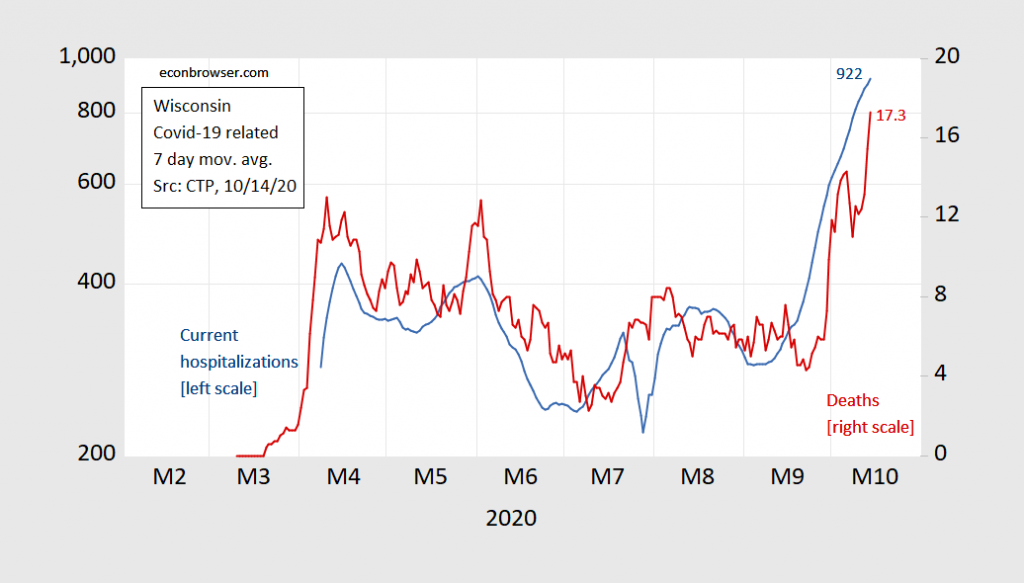 Figure 1: Wisconsin current Covid-19 hospitalizations (blue, left log scale), fatalities as of date reported (red, right scale). Source: Covid Tracking Project, accessed 10/14/2020.
From Wisconsin State Journal (10/13/2020):
Citing inaction by the state Legislature, a St. Croix County judge on Monday rejected a request by a conservative legal group for a temporary injunction against Gov. Tony Evers' statewide mask mandate.

…

The GOP-led Legislature has met once since the pandemic began, in April, to take up legislation in response to COVID-19. Lawmakers and Evers ultimately signed what officials on both sides of the aisle described as "imperfect" legislation.

The package aimed to complement federal aid allocated to the state, included additional Medicaid funding, allowed for increased unemployment benefits from the federal government and waived a one-week waiting period for benefits until February. The bill also allowed the state budget committee to spend up to $75 million during the public health emergency on coronavirus-related needs, though the committee has not exercised that authority.

Vos and Fitzgerald did not respond to requests for comment on Monday.

…

Johnson, who tested positive for COVID-19 earlier this month, said he is opposed to the governor's mask mandate.